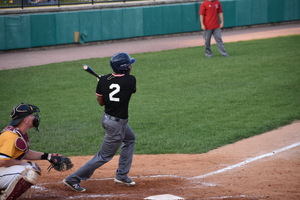 Chicago, Ill – July 26, 2019 – Nothing quite sets the tone for a game like a 35-minute-long first inning that features 15 combined runs.
Fortunately, the Vikings were the benefactors of 10 of those runs, jumping out to a 10-5 lead that they would not relinquish, tacking on 11 more runs throughout to cap off a 21-8 rout of the Joliet Generals on Friday.
The Vikings batted around in their order three separate times, and every man in the starting lineup reached base at least once as the Vikings tied a season high run total for a single game.
"We found the barrel today. We had line drives in the gap, guys going opposite field, we took our walks. There were no bad swings today," manager Dave Letourneau said.
Initially, it was a grim start for Southland. Starter Logan Strutz (Triton College/Lockport, Ill.) was lifted after just five batters without recording a single out due to right arm soreness.
Already down two runs, the Vikings turned to Michael Botthof (Moraine Valley/Palos, Heights, Ill.) in a pinch to try and stop the bleeding. Botthof hardly had time to put his uniform pants and cleats on before taking the mound for a few warmup tosses. Though he surrendered a couple hits, he was able to induce a double play and ultimately get out of the first.
Down 5-0 before they even had a chance to bat, the Vikings refused to panic. Instead, they responded by loading the bases in front of Jake Schroeder (NIU/Flossmoor, Ill.) who unloaded on a 1-0 pitch that sailed over the left field wall for a grand slam.
"We just stayed calm at the plate, didn't panic because we were down five runs," Schroeder said. "My approach was opposite field, but I got a pitch in, reacted, and put it out over the fence."
The offense continued to tee off, notching six more hits and six more runs to take a 10-5 lead. The Vikings sent 14 to the plate all told and saw Dashon Moore (U of I Springfield/South Holland, Ill.) and Anthony Rios (Lewis University/Lemont) pick up two hits apiece.
Both teams settled down as the next few innings rolled on, with Botthof and the Vikings defense stealing the show. In all, the right hander went 7 innings in relief, allowing just three runs in the process.
"Mike came in and absolutely shoved. He hasn't pitched a lot and for him to come in like that and throw strikes with three pitches, it was a lot of fun to catch for him," said Schroeder.
"That's one of the better performances of the year with the circumstances,"Letourneau said. "He showed his teammates and me exactly what kind of pitcher and competitor he is."
Botthof's job was made even easier when the Vikings tacked on four more runs in the fourth. Moore picked up his third hit and RBI of the day as he broke out of an offensive funk, while AJ Wright (Northwood University/Griffith, Ind.) and Schroeder drove runs in as well. Wright had himself a day too with a couple of base hits and four RBIs.
In the seventh the Generals notched three runs to draw within six, but that would be as close as they would get. The Vikings turned to Trey Ricko (UT Martin/Plainfield, Ill.) for the eighth, and he was superb in working around a walk and error to pitch a scoreless inning.
The Vikings then blew the game wide open again, scoring seven runs in the bottom of the eighth to grab the 21-8 lead. Pinch hitter Michael Marseille (Lake Land College/Chicago Heights, Ill.) ended up with two plate appearances and an RBI in the inning. Justin Rios (NCC/Lemont, Ill.) would walk for the fourth time, gaining an RBI in the process, while Joe Curci (RPI/Chicago, Ill.) later in the inning ripped a single for his first hit and RBI of the game.
Mike Tobin (Concordia Chicago/Hickory Hills, Ill.) even got an at bat in the inning, and after lining into a double play remained in the game to pitch the ninth inning. He worked a 1-2-3 ninth to end the day on a high note.
With the win, the Vikings improved to 20-13 on the year, and with a Bloomington Bobcats loss to Crestwood slipped back into first place by a half game.
The Vikings now face a challenging weekend slate with double headers Saturday and Sunday at home from St. Rita's. The first of the two double headers are against the surging DuPage County Hounds, with a Game 1 first pitch scheduled for 1 p.m. Zach Litke (Concordia Chicago/Oak Lawn, Ill.) will have the ball for the matinee, and Victor Aguilar (NCC/Blue Island, Ill.) will start the night cap. Will Trubshaw will have the call of both games on the Southland Vikings Broadcast Network.