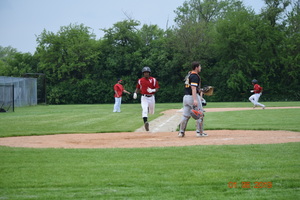 Midlothian, Ill. – July 25, 2019 – For a team feeling all the pressure of a playoff race, while also in the midst of a cold stretch, the Vikings seemed pretty loose prior to Thursday's game.
It seemed to translate to the field in the best way imaginable as the Vikings played a complete game and handled the Panthers by a score of 8-2.
The game was never really in doubt for the Vikings, who took the lead in the fifth for good and did not look back. Solid defense and clutch pitching were key in a win that seemed to mean more than just another tally in the win column.
"I felt like we were in control of the game, one through nine. We did good job of playing with the lead, made some easy plays, and you know that's where it starts man," said manager Dave Letourneau. "When you're struggling, keep everything simple."
Christian Bolhuis (Wheaton College/Oak Lawn, Ill.) set the tone in his fifth start of the year, allowing just two runs over six innings of work on the way to his second win of the year. Most impressive was his ability to escape a couple bases loaded jams, allowing only one unearned run in those situations.
"I sent him a text today and I said, 'the ball is yours and the leash is long'," Letourneau said. "I though he was absolutely outstanding. When you're in a losing streak and things aren't going well you need a stopper, and he was that today."
After the Panthers struck first in the third inning thanks to that one unearned run, the Vikings jumped in front thanks to an Anthony Rios (Lewis University/Lemont, Ill.) double and Jake Schroeder (NIU/Flossmoor, Ill.) single.
The Panthers then tied the game in the bottom of the fourth, but the tie would be broken almost immediately the next half inning, as the Vikings pulled away with a four-run fifth.
Schroeder again delivered a line drive single that scored two runs, and Logan Anderson (South Suburban/Chicago, Ill.) followed him with a two run double to make it 6-2 for the Vikings. Another three RBI day for Schroeder earned him the praise of his manager and proved just how sorely he was missed in the week and a half he was out with an illness.
"That guy just comes up with hit after hit after hit. What a run producer he is. He hits the ball so hard and loves having guys on base. He's got such a confidence and such a swagger to him at the plate with guys on," Letourneau said.
The Vikings tacked on another insurance run in the seventh, when Joe Curci (RPI/Chicago, Ill.) laced a line drive to center for his first RBI of the night. After an almost four-week absence due to injury, Curci made his presence felt not only on the field but in the dugout as well.
"Joe is a huge factor in this lineup. I think when he's you have that loose feeling," Letourneau said. "It's so weird how one guy makes everyone feel comfortable and loose and I honestly think that was a big factor today."
With a five-run lead, the Vikings turned the ball over to IF/OF Billy Curtis (Moraine Valley/Lockport, Ill.) hoping to get one inning out of him in an effort to spare a taxed bullpen. Instead he went three innings and finished the game off for the Vikings. Curtis, who has not pitched regularly since his freshman season at Trinity Christian College, allowed just two hits while netting two strikeouts.
With two double headers on the horizon this weekend, keeping the bullpen as fresh as possible was key for a Vikings team that is now just a half game out of first place again. It feels like the suddenly loose Vikes have a chance to build on this win with a little run down the stretch.
The Vikings first chance to make a move will be Friday against a hungry Joliet team at St. Rita's. Will Trubshaw will be joined by Sam Oppenheim on the Southland Vikings Broadcast Network for the 5 p.m. first pitch.