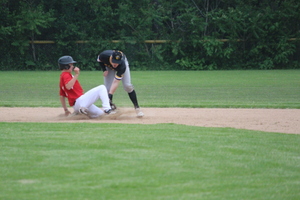 Chicago Heights, Ill. - July 19, 2019 - The Southland Vikings will now have to wait until Tuesday to resume play, as excessive heat in the Chicagoland Area has prompted cancellations of games Friday night against the Northwest Indiana Oilmen and Saturday afternoon against the DuPage County Hounds.
While the game against the Oilmen has not been rescheduled, the Vikings contest with the Hounds will be played as a double header at St. Rita High School next Saturday, July 27.
The Vikings are coming off an impressive 21-11 win over the Crestwood Panthers Thursday, which saw them improve to 18-11 for the season while remaining in first place in the MCL standings. The next game for the Vikings is scheduled for Tuesday against the Panthers at 5 p.m., barring any more weather related changes.
For the latest on all team related news and schedule updates, be sure to visit the Vikings team website, southlandvikings.com.