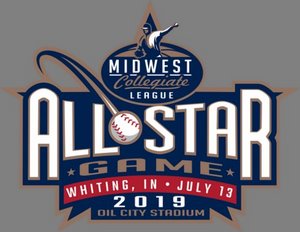 Whiting, Ind. – July 13, 2019 – The festivities at the 2019 MCL All-Star Game were cut short as lightning forced the game to be called after one inning of play. It was the first All-Star Game in MCL history to be called off early.
The Vikings did make an impact in that short time. In the top of the first, Anthony Rios (Lewis University/Lemont, Ill.) and Dashon Moore (U of I Springfield) teamed up to complete the back end of a strike-him-out, throw-him-out double play.
In the bottom half Rios singled in the only run of the game on a one out liner to center. Justin Rios (North Central College/Lemont, Ill.) reached on an error but the inning, and the game would come to an end shortly thereafter.
After enjoying two off-days as part of the All-Star break, play will resume Tuesday in Bloomington for the Vikings. The game has been rescheduled to be a doubleheader, and will take place at the Corn Crib, with a first pitch set for 6 p.m. Will Trubshaw will have the call on the Southland Vikings Broadcast Network.