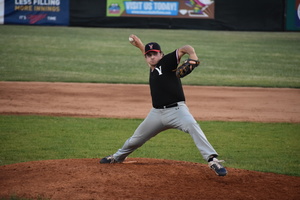 Lemont, Ill – July 5, 2019 – The Vikings returned from their Fourth of July holiday set to embark on a challenging stretch of five games in four days against three other MCL postseason contenders. They got off on the right foot Friday, with a 5-1 victory over the DuPage County Hounds in Lemont.
Justin Rios (North Central College/Lemont, Ill.) was once again lights out, going seven strong while allowing one run in his fifth win of the season. It was his third start of at least seven innings as he helped the Vikings improve to 15-5 for the season.
"I don't really know what to say anymore," said Manager Dave Letourneau with a grin. "He just refuses to be beat, and that's what makes him so successful." Rios made the start knowing that his efforts thus far had earned him a trip for the second year in a row to the MCL All-Star game on July 13, along with 7 other teammates.
In the first inning it was a pair of All-Stars who teamed up to put the Vikings in front 1-0, when Dashon Moore (U of I Springfield/South Holland, Ill.) (also a two time All-Star) scored on a sac fly to center off the bat of Anthony Rios (Lewis University/Lemont, Ill.)
The score would hold at 1-0 until the fourth, when the Hounds knotted it at one on a line drive that crossed All-Star Jake Schroeder (NIU/Flossmoor, Ill.) up in left field. Though Schroeder is primarily a catcher, Letourneau played him in left to keep his bat in the lineup, as the Vikings went with a DH-less lineup with Rios on the mound.
Schroeder had more trouble the next at-bat as a ball was rocketed over his head to the fence, however a nice recovery and throw in to the cutoff man Moore helped save a run and end the fourth without any more damage.
Looking for a spark, the Viking bats came alive in the sixth. Justin Rios, Schroeder, and Anthony Rios all reached to load bases for Logan Anderson (South Suburban/Chicago, Ill.) who jumped on the first pitch he saw for a double to straight away center, scoring Justin Rios. Schroeder tried to score but would be thrown out at home.
With one out and two in scoring position, the fun was not about to stop as Max Malley (University of Evansville/Frankfort, Ill.), another first time All-Star, lined a single to score Anthony Rios and put the Vikings up 3-1. Joe Egan (Loras College/Chicago, Ill.) followed with a groundout to short, scoring Anderson. Kellen Quigley (Webster University/Bolingbrook, Ill.) then singled to bring Malley around to score, putting the finishing touches on a 4-run inning to put the Vikings up 5-1, where the lead would stay for good.
It came as no surprise either, that the major contributors to that inning were the Vikings newly minted All-Star Game representatives. For the game, the All-Stars went 8-for-19 with 4 runs and 2 RBIs at the plate.
It was not just at the plate where the Vikings stars shined, but on the mound as well. After Rios completed his seventh inning of work, he turned the ball over to first time All-Stars Mike Tobin (Concordia University Chicago/Hickory Hills, Ill.) and Trey Ricko (UT-Martin/Plainfield, Ill.) for the eighth and ninth respectively. Fittingly, both worked 1-2-3 innings to send the Hounds packing.
The victory put the Vikings at a season best 10 games over .500 and gave them a little breathing room atop the MCL standings, with a 2.5 game cushion over the Hounds. Letourneau knows that the success of his club in the first half has been due in no small part to the eight players who will be on the field in Whiting on July 13.
"(Having) eight guys in no fluke. I think every one of those guys are a reason for our success," said Letourneau. "Eight guys on a team, I think it's outstanding, and its well-deserved by every one of them."
For now, all the Vikings will be in Whiting on Saturday when they square off with the Northwest Indiana Oilmen at 6:10 p.m., looking to match a season high seven wins in a row. Will Trubshaw will join Brandon Vickrey on the call for the NWI Oilmen Broadcast Network.