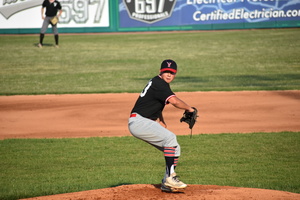 Chicago Heights, Ill. - July 2, 2019 - On Tuesday Vikings two-way player Justin Rios (North Central College/Lemont, Ill.) was named MCL Pitcher of the week for the week of June 24. This is the first weekly award Rios has received this season.
Rios is the second Vikings' pitcher to receive a Pitcher of the Week award, after Trey Ricko received one for the week of June 2. Rios needed just one start to capture the award, but it was a superb one. On Saturday, June 29 Rios threw 8 shutout innings while striking out 7 and only allowing six hits in a 3-0 win over the Oilmen. In the process he picked up his fourth win of the season and lowered his season ERA to an absurd 1.19 for the year
Rios is in his second season with Southland, and returns as one of two Vikings who made the MCL All-Star game last season. He also plays his collegiate ball at North Central College, where he completed his freshman campaign this past spring.
The Vikings will be back in action looking to extend their four game win streak on Wednesday against the Crestwood Panthers in Midlothian. It's their last game before a league wide off day for the 4th of July.