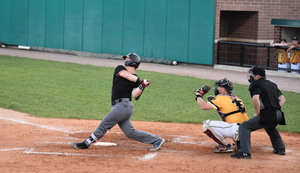 Whiting, Ind. – July 1, 2019 – For the second time in three days, the Vikings and Oilmen squared off in Whiting, and the Vikings again came out on top 5-1.
Jake Ruppert (St. Xavier University/Tinley Park, Ill.) was handed the ball Monday for the make-up game from June 15th and was lights out on the mound, allowing just one run in 7 innings while striking out seven Oilmen en route to his second straight win.
Ruppert, who also went for 8 innings and the win last Wednesday, got off to a conspicuous start when he loaded the bases with nobody out in the second. A single would bring in a run, but Ruppert was able to locate the zone and retire the side to escape the jam with minimum damage done.
"He was able to 'Houdini' out of it. That's such a huge momentum thing. It's a killer for them, its momentum on our side, to get out of that bases loaded nobody out jam with only one run scored," said Manager Dave Letourneau.
While Ruppert was able to settle in and pitch a mostly clean game the rest of the way, there was not much support from the offense, as they managed just two hits through the first four innings.
Their fortunes changed in the fifth, when with one man on Logan Anderson (South Suburban College/Chicago, Ill.) teed off on a 1-0 pitch that sailed over the Brick Monster in left field at Oil City Stadium to put the Vikings in front 2-1.
The home run was Anderson's first of the year, and it would prove to be the game winner for the Vikings.
"You could tell it ignited our team. It kind of set them (the Oilmen) back a little bit and put us in a really good spot," said Letourneau.
The Vikings would add three more insurance runs in the eighth inning on an Anthony Rios (Lewis University/Lemont, Ill.) single, Justin Rios (North Central College/Lemont, Ill. scoring following Anthony Rios's steal of second, and a Jake Schroeder (Northern Illinois University/Flossmoor, Ill.) single.
With a firm four run lead, Letourneau turned to his bullpen for the eighth and ninth. It was Christian Bolhuis (Wheaton College, Oak Lawn, Ill.) on in the eighth, and he too used a little "Houdini" magic to get out of a self-inflicted bases loaded jam.
Mike Tobin (Concordia University/Hickory Hills, Ill) came in for a non-save situation and despite a double and walk, struck out two Oilmen to seal the Vikings 5-1 win. The win was their fourth straight, and fourth this season over the Oilmen in 5 tries. Perhaps more impressive, the Vikings have not lost yet this season at Oil City Stadium.
"When you come here, you have to play a really good baseball game. You almost have to play perfect," said Letourneau. "The recipe for success here is staying in the game as long as you can and coming up with a big hit."
That has been the recipe for many a game with Southland this year, as they have turned an 0-3 start into a 13-5 season record and a spot at the top of the MCL standings.
With an off-day Tuesday, the Vikings will recoup for a day before heading to Howie Minas Field Wednesday to take on the Panthers, before a league-wide off day for the Fourth of July. Will Trubshaw will join forces with Jon Zaghloul to bring you the broadcast on the Crestwood Panthers Broadcast network. First pitch is scheduled for 7 p.m.