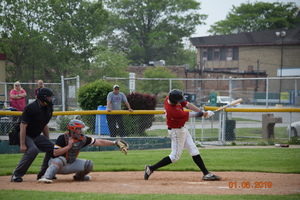 Chciago Heights, Ill. - June 26- 2019 - Coming off a frustrating loss, coupled with a weary bullpen, the Vikings were in need of a big-time performance when they took on the Crestwood Panthers Wednesday.
Enter Jake Ruppert (St. Xavier University/Tinley Park, Ill.)
Ruppert was sensational for the Vikings, picking up the win after striking out seven and scattering seven hits and two runs across eight innings, picking his team up when they needed it most.
It was arguably the best performance by a Viking starting pitcher this season, and amazingly it was Ruppert's first in almost two weeks.
"It was nice to get back out there," Ruppert said. "Working the off-speed, (I) got ahead and guys started swinging at the first pitch, and it all worked out."
"His fastball was electric. I noticed early that his fastball was on, had a lot of velocity. His curveball was a strike all day long and his changeup was just nasty," said Manager Dave Letourneau. "It was just a dominating performance in my opinion."
After allowing the leadoff man to double and score in the first, Ruppert did not give up another hit until the fourth inning. A Joe Curci (RPI/Chicago, Ill.) RBI single in the second would tie the game at 1-1, and an inning later Jake Schroeder (NIU/Flossmoor, Ill.) would give the Vikings a 3-1 lead on a two out single.
In the sixth, Dashon Moore (U of I Springfield/South Holland, Ill.) would double in two more insurance runs to stretch the Viking lead to 5-1. For Moore and Schroeder, it was their second consecutive game with multiple RBIs as they continued their outstanding play of late.
"Both guys are line to line and gap to gap. They're just such tough outs, you know two completely different players, but both do a lot of the same things at the plate," Letourneau said.
Ruppert would allow one more run on a Ray Hilbrich solo homer in the eighth to make it a 5-2 game, before turning it over to Mike Tobin (Concordia University Chicago/Hickory Hills, Ill.) for the save opportunity in the ninth.
Tobin worked a five pitch 1-2-3 inning to collect the save, his second of the season, while giving closer Trey Ricko (UT-Martin/Plainfield, Ill.) the day off. The victory was the Vikings 10th of the year and put them back at the 5 game over .500 mark.
In a game that certainly could have caught the Vikings off guard after the difficult loss the night before, they instead showed the grit and chemistry that has enabled them to go 10-2 in their last 12 games.
"I love it. It's just fun playing with every one of these guys. We all come from different backgrounds and we all ended up here," Ruppert said. "I think we've got good chemistry and we'll carry that through the rest of the season."
The Vikings return to action Thursday when they look to get even with the Joliet Generals at Wayne L. King Field in Joliet. First pitch is scheduled for 5 p.m. when Will Trubshaw and Sam Oppenheim will have the call on Facebook Live via the Joliet Generals Broadcast Network.