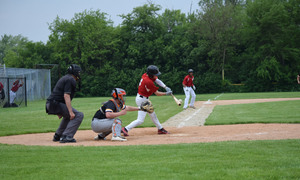 Chicago Heights, Ill. – June 22, 2019 – With another long layoff after three straight rainouts, rust was certainly a possibility when Southland took the field at Hap Bruno.
"Not playing over the last three days, I was worried about today, because you just never know if we'll come out flat," said manager Dave Letourneau.
The Vikings were anything but on Saturday, when they defeated the defending champion Northwest Indiana Oilmen 8-4.
Though there were many opportunities to pull away early, the Vikings broke a 4-4 tie in the sixth and would not look back, winning for the ninth time in their last 10 tries.
The Vikings would load the bases in the first and second innings but were able to push just one run across thanks to a bases loaded walk in the second. In three plus innings of work, the Vikings would draw seven walks off Oilmen starter Chris Torres.
"I don't think we did a really good job of getting that big inning," said Letourneau. "I think we have to do a better job of taking advantage of the walks they were giving us. Obviously happy to get the win, but when it comes to our at-bats I think we could've been better."
Jaime Prieto (Kishwaukee College), making his fourth start of the season, had a smoother day in the office, striking out three while only walking one and allowing one run over 5 innings.
"He did a really good job of having all three pitches going and keeping the hitters guessing with two strikes," Letourneau said.
His teammates were able to supply him a three-run lead in the fourth, thanks in part to Dashon Moore (University of Illinois-Springfield) creating a little havoc on the bases.
With one out and one already driven in by Moore, the Oilmen attempted to throw behind him at first, but the ball sailed in to right, scoring Drew Komendant (University of Wisconsin-Whitewater) from third and advancing Moore all the way to third. PJ Raines (Santa Rosa Junior College) would bring Moore in on a groundout on the next pitch.
Prieto would exit after the fifth with a 4-1 lead, in line for his first win of the season. However Christian Bolhuis (Wheaton College) struggled with free bases in his side session appearance out of the pen. After walking the first two batters, back to back singles brought the Oilmen back within one. Following a strikeout, another single brought in the tying run. Bolhuis would record one more out before being lifted in favor of Mike Tobin (Concordia University Chicago) who would finish off the sixth without allowing any more damage.
"It was just one of those days where he (Bolhuis) didn't have a good feel. Anytime Christian needs that side work, I'll never hesitate to go to him," Letourneau said.
Tobin would once again prove a steadying hand for the Vikings bullpen, going 2.1 innings in relief. He would get help from the Vikings offense too.
In the bottom of the sixth, the Vikings loaded the bases on the strength of two walks and a single. For the game, the Vikings drew twelve walks total. Jake Schroeder (Northern Illinois University) and Joe Curci (Renssalaer Polytechnical Institute) then laced back to back singles to drive in three runs and put the Vikings back up 7-4. Kellen Quigley (Webster University) singled one batter later to add one final insurance run.
After Tobin in the seventh and eighth, Letourneau handed the ball off to Trey Ricko (University of Tennessee-Martin), who worked another drama free ninth inning (despite a leadoff walk) to ensure the Vikings their ninth win of the season.
After another week mostly lost to rain, the Vikings will hope for a mostly dry week to get in a rhythm, as they stare down the barrel of seven games in seven days, including a doubleheader Thursday in Joliet. Southland will kick off the week Sunday at home, when they host the Bloomington Bobcats for a 1 p.m. matinee. Will Trubshaw will have the call on Facebook Live and the Southland Vikings Broadcast Network.