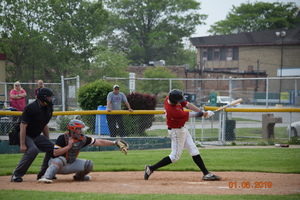 Hitting a home run at the usually pitcher friendly Hap Bruno field is no easy feat. On Friday with the wind howling, Vikings Catcher Jake Schroeder (Northern Illinois University/Homewood-Flossmoor HS) did it twice.
Schroeder had two of the four combined home runs between the Vikings and DuPage County Hounds in what became a 9-8 slugfest that was ultimately decided by Schroeder, with a two out walk off single in the 10th.
"His approach is awesome. He doesn't try to do too much," said manager Dave Letourneau of Schroeder. "He stayed with his approach middle of the field, and you can't ask for anything better at the plate."
Sticking to their approaches at the plate would be key for the Vikings as it was clear from the beginning that this wouldn't be another pitcher's duel, with both teams scoring in all but two innings of Friday's back and forth showdown.
DuPage's Brady Hebert got things started with a solo home run to put the Hounds in front, but the lead wouldn't last a half inning after Schroeder hit a 2-run round-tripper to put the Vikings in front. The Hounds would tie it in the second on a Nick Zeeveld single, but the Vikings would respond with a three run second to jump out to a 5-2 lead.
A Dashon Moore (University of Illinois Springfield) double brought in another run for the Vikings in the fifth to make it a 6-2 advantage. The lead would disappear rather quickly though, as a couple miscues in the field allowed three Hounds to score in the fifth, and with one swing of the bat Zeeveld put the Hounds out in front in the sixth, a towering three run blast making it an 8-6 advantage for DuPage.
With the Vikings facing a late game deficit, they rallied just in time. Schroeder hit his second homer of the game in the seventh to pull Southland within one, and in the eighth Moore tied the game once again with a two out single, keeping the hopes of their win streak alive.
"We're just in a really good state of mind, seven in a row, so were feeling pretty good about ourselves," Schroeder said.
Both teams' attempts to regain the lead in the ninth proved fruitless, and the game would go to extras with the possibility of a postponement looming as the sun set behind Hap Bruno. The Vikings got out of the top of the 10th in short order thanks to a heads-up defensive play by Kellen Quigley (Webster University), who came in as a defensive replacement late in the game.
In the bottom of the tenth PJ Raines (Santa Rosa Junior College), pinch hitting for Kyel Alexander (Moraine Valley Community College), drew a one out walk and advanced to third on a Moore single. Billy Curtis (Moraine Valley Community College) went down swinging, leaving it up to who else but Jake Schroeder.
And with an 0-1 count on him, Schroeder hit a hard groundball that ate up shortstop Jacob Hansen, bringing Raines in from third to send the Vikings home with their first walk off win of the season.
"In the on-deck circle, you're thinking about that stuff. In the box you just got to have a blank mind and just hit the ball where it's pitched," Schroeder said. "That's all I tried to do today, and it worked out for me."
Schroeder, who was a late addition to the Vikings roster, has been impressive both behind the plate and at it in just three games with Southland. And had it not been for a run in with Letourneau during the high school season, Schroeder may not have ended up a Viking.
"He was at Homewood-Flossmoor, and he called me one Sunday morning a week or two before the season, and said that he wanted to play," Letourneau said. "We just had played him for St. Rita the day before he called me. I remember seeing him during the game and remember him being lights out behind the plate. I didn't really pay attention to him at the plate to be honest."
With a performance like this, it's safe to say that Schroeder will have a few more eyes on him when he steps into the batter's box next.
It could be as soon as Saturday, when the Vikings travel to Whiting to take on the NWI Oilmen (5-5) at Oil City Stadium. First pitch is at 6:10 p.m. and will be broadcast on the NWI Oilmen Broadcast Network as the Vikings search for their eighth win in a row.