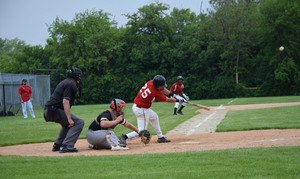 Joliet, Ill. – June 13, 2019 - A little less than two weeks ago, after the Vikings lost their third straight game to open the season, manager Dave Letourneau boldly predicted that his team would win their next game and "get on a roll".
On Thursday, the Vikings (6-3) reached perhaps the peak of their roll, winning their sixth straight game while scoring a season high 11 runs in their defeat of the Joliet Generals (2-3). It was the first game of the season between the Vikings and Generals, as their previous three had been cancelled because of weather, and its start seemed similar to many others in this win streak. The offense remained quiet through the first couple innings before coming alive in the middle of the game.
The Generals were able to strike first however, as Vikings starter Jake Ruppert (St. Xavier University) served a 2-run home run to Bryant Diel in the second. It was Diel's first home run of the season, and it got the Joliet offense jumpstarted as they would again score a run in the third and fourth innings, on a Devin Buckner double and Chris Broccolino solo Home Run.
Ruppert's day would be done after four innings, but his offense came alive to get him a No Decision, scoring at least a run in every inning from the fourth to the eighth.
Anthony Rios (Lewis University) got the Vikings scoring in the road half of the fourth with an RBI double, and Logan Anderson (South Suburban College) tacked on a run with a sac fly.
The Vikings jumped in front in with a three run fifth to make it 5-4. PJ Raines (Santa Rosa Junior College) knocked in run number three for the Vikes and would come around to score on a Max Malley (University of Evansville) 2-run single. Southland would not trail the rest of the way, scoring two more in the sixth, one in the seventh, and three in the eighth.
"One through nine we just dominated at the plate today," said Letourneau.
The bullpen was its usual lockdown self, with Mike Tobin (Concordia University Chicago) earning the win after scattering three hits and only one run over three innings of work following Ruppert. Victor Aguilar (St. Rita HS/North Central College) made his Viking debut going an inning and 2/3 allowing just one run himself, before ultimately handing off to Trey Ricko (University of Tennessee-Martin) for the final out of the game.
Malley and Rios led the offensive charge with three RBI apiece, while Raines was 4-for-5 with two runs scored. Most impressive of all, was that all nine starters reached base for the Vikings at least once.
"From the fourth inning on, we did a really good job of getting our pitches, elevating the baseball and hitting line drives to the opposite field," Letourneau said. "I can't really express how good of an offensive show that was today."
Shortstop Dashon Moore (University of Illinois-Springfield), who went 2-for-6, noted after the game how important it was to have everyone in the order firing on all cylinders like they were on Thursday.
"It's a big confidence booster, because even if you don't come up when you're supposed to, you've got guys behind you who'll always come through for you. And if that guy doesn't come through, then the next guy will come through for (us)," said Moore.
With the win, the Vikings moved to just a half game out of second place in the MCL standings. They'll have a chance to take sole possession of second on Friday when they face off against the DuPage County Hounds.
Jaime Prieto gets the nod for the Vikings as they will look to make it 7 in a row.The game will be broadcast live from the Southland Vikings Facebook Live, where Will Trubshaw will have the call at 5 p.m. from Hap Bruno Field