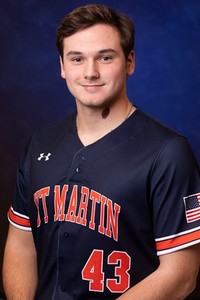 Chicago Heights, Ill - June 11, 2019 - On Monday Southland Vikings reliever Trey Ricko (University of Tennessee-Martin/Plainfield, Ill.) earned his first MCL Pitcher of the Week award for the Week of June 2nd to June 9th.
Ricko played an integral role at the back end of the Vikings bullpen, appearing in all three games and collecting two saves while striking out six and not allowing a run. Ricko's performances were part of outstanding overall pitching from the Vikings that has led to four straight victories.
Ricko is in his first season with the Vikings after coming off his freshman campaign at UT-Martin where he appeared in three games, compiling a 3.86 ERA with 4 strikeouts in just 2.1 innings pitched.
Ricko and the Vikings return to action Wednesday against the Crestwood Panthers from Hap Bruno Field at 5 p.m..