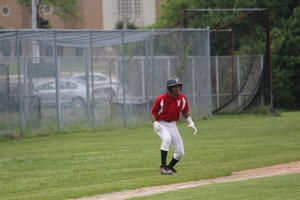 It only took an hour and 53 minutes for the Vikings (4-3) and DuPage County Hounds (6-3) to play Monday in a makeup game that saw the Vikings emerge with a 3-2 victory.
The game quickly turned into a pitchers' duel as Southland's Justin Rios (North Central College) and DuPage's Hayden Fox attacked the strike zone vigorously. Fox went six innings while striking out nine batters and three runs, however Rios would outlast him, going seven innings allowing only two runs while striking out four.
Rios would not allow a run until the seventh inning and was able to get the job done with the bat as well, as he finished the day 2-for-4 with an RBI and a run. That run would prove to be the difference in the tightly contested one run ball game. It came as no surprise to Dave Letourneau that Rios, an MCL All-Star last year, was the star of the show for the Vikings on Monday.
"Having him in the lineup just sparks the whole team. He can win a game in center, he can win a game on the mound, he can win a game at the plate," Letourneau said.
Rios opened the scoring in the first, as a hard-hit ball to short gave DuPage shortstop Nick Santoro enough trouble to allow Kyel Alexander (Moraine Valley Community College) to score. Dashon Moore (University of Illinois-Springfield) and Rios would also come around to complete the three run first. From there, the Vikings offense would fall quiet, mustering just three hits the rest of the game.
The Vikings bullpen would come in clutch again with Jake Ruppert (St. Xavier University) earning a hold in the eighth, and Mike Tobin (Concordia University) striking out two in the ninth to notch the save.
The win put the Vikings one game over .500 at 4-3, and in sole possession of third place. Since Rios returned to the lineup, they have gone a perfect 4-0.
"It's no coincidence, you go 0-3 to start the year and Justin Rios isn't in your lineup for any of the three, and all of a sudden he comes back and we're 4-3," said Letourneau.
The lineup additions aren't done just yet either for the Vikings, who have an off-day Tuesday before finishing up their three game homestand against Crestwood on Wednesday.
Joe Curci (Renssalaer Polytechnical Institute) did not play Monday, while PJ Raines (Santa Rosa Junior College) returned to the lineup and went 0-for-3. Logan Anderson (South Suburban College) will be back for the Vikings by Wednesday, and Nick McAlister (South Suburban College), a member of the 2018 Vikings, will rejoin the team in the near future.
It will be another 5 p.m. start from Hap Bruno Field on Wednesday for the Vikings, who will try and make it 5 consecutive wins against the Panthers. Will Trubshaw and Thomas Butler Guerrero will have the call on Facebook Live for the Southland Vikings Broadcast Network