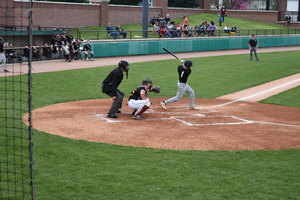 Chicago Heights, Ill. – June 9, 2019 – A hot start helped the Vikings continue their winning ways Sunday, as they knocked off the first place Bloomington Bobcats 8-5.
In a game that was delayed starting by almost 45 minutes to prepare the field for play after rain showers passed through, both teams warmed to the task offensively in the first inning.
The Bobcats would strike first after two singles and a Will Oberg double plated one run. A costly running error by Brandon Olion as he tried to score on that same double led to him being thrown out at the plate.
After three straight leadoff hits, Vikings starter Christian Bolhuis (Wheaton College), locked himself in, allowing just two more hits over his next five innings.
"I think I just commanded my fastball well. My off-speed stuff wasn't really working, but I just kind of looked fastball, just spotted it well and they didn't really hit it much," Bolhuis said. "Couple barrels found gloves which always helps."
Bolhuis got some immediate help from the offense too, as the Vikings bats responded with a 5-run bottom half of the first. The Vikings tied the game after Dashon Moore's (University of Springfield) daring straight steal of home with the bases loaded and two down that caught seemingly everyone off guard. After a Joe Egan (Loras College) walk to load the bases again, Max Malley (University of Evansville) ripped a double to deep center that cleared the bases to put the Vikings in front 4-1. Cooper Hynes (Concordia University) followed up with a line drive single that brought Malley around to score.
Vikings manager Dave Letourneau praised Moore's efforts to get the rally started and took time to compliment the shortstop's constant impact.
"He's the most electric player on the field, all the time. He's so much fun to watch every day," Letourneau said.
The lead would remain at 5-1 as both pitchers settled in to a post first inning groove. Bobcats starter Ryan Leland would be lifted after 5, and his replacement, right hander Dan Trudeau, would surrender two more runs on a Moore sacrifice fly and a Justin Rios (North Central College) RBI single to make it 7-1.
The Bobcats would not go down without a fight however, as they notched one run in the seventh and two in the eighth to make it a 7-4 ball game.
Moore knocked in an insurance run, his second of the game, in the Vikings half of the eighth to make it 8-4.
In the ninth, the Bobcats threatened after two walks and a hit by pitch from Vikings reliever Daniel Brannigan (Dominican University), loaded the bases with no one out. Letourneau turned to closer Trey Ricko (University of Tennessee-Martin) to lock down the win. Ricko would allow one run to score, but nothing more as he induced a couple lazy fly balls to pick up his second save and seal the deal on the Vikings third straight victory.
Up next for the Vikings as they look to keep their win streak going will be the DuPage County Hounds, in a makeup Monday at Hap Bruno Field. The game, originally scheduled for Friday, will be the first time the teams have met since the Vikings' season opener, which they lost at home 9-8 in eight innings.
First pitch is scheduled for 5 p.m. and can be seen on Facebook Live via the Southland Viking's Facebook. Will Trubshaw and Thomas Butler Guerrero will have the call.
*Editor's note: In a previous version of this recap, it had been stated that Trey Ricko had been inserted in a non-save situation, when in fact it was a save situation. The error has since been corrected.