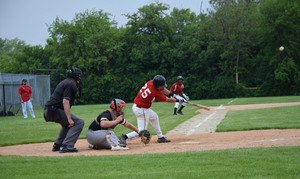 Bloomington, Ill. – June 2, 2019 – On Sunday, the weather broke in the Vikings favor, but the bats did not as the Bloomington Bobcats used seven pitchers on the way to a 5-0 shutout.
The Vikings, now 0-3, completed their first full 9 inning game of the season, but many of the same issues from Friday and Saturday plagued them.
The Bobcats (3-1) took advantage of miscues in the field to jump out to a 4-0 lead in the fourth and would not look back. Catcher Anthony Rios had two errors charged to him on attempted pickoff throws to third that skipped into left field. While miscues in the field have been a little too frequent in the early going, Manager Dave Letourneau had no issue with the misplays on Sunday because they were the result of aggression rather than mental mistakes.
"The two errors we made that cost runs were the catcher trying to make a play, and I have no problem with that. That's being aggressive," Letourneau said. The bigger issue in Letourneau's eyes was the lack of offense. The bats mustered just six hits while striking out 11 times, mustering no run support for Jaime Prieto in his Southland Vikings debut. The Vikings had a chance to capitalize in the eighth with the bases loaded and two outs but squandered the opportunity on a Rios strikeout.
"I think it comes down to right now, not having quality at-bats one through nine," Letourneau said. "As a team offensively, we have to be better and when our top guys get on base, we have to drive them in."
The Vikings now find themselves with back to back off days Monday and Tuesday coming off a tough opening stretch against last year's other MCL playoff qualifiers. Letourneau told his team to enjoy the off day but be ready to play come Wednesday at Crestwood.
With his full roster coming available with high school and college seasons wrapping up, Letourneau believes that a winning streak is in order.
"It's go time. Starting Wednesday, we're going to have a different edge to us," Letourneau said. "Once we get that first win, I think we're going to get on a roll, and its 'look out' for the whole league."