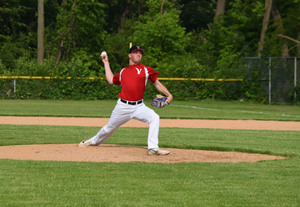 Chicago Heights, Ill. – June 1, 2019 – The Southland Vikings (0-2) will have to wait at least one more day to get in the win column after falling to the Northwest Indiana Oilmen (2-1) 8-6 in a shortened six inning contest.
The Vikings began mounting a comeback against the reigning MCL champions after falling behind 7-0, but it was halted in its tracks by Mother Nature. Umpires called the game after just one batter in the top of the sixth, as a thunderstorm bore down right over Hap Bruno field.
Right-hander Zach Litke made his Vikings debut on a windy day, and despite giving up 8 runs was solid in 5 innings of work. The major blemish came in a four run fourth where Litke gave up some hard contact, including a three-run, no-doubt home run off the bat of Oilmen slugger Joe Rycerz. Litke would also give up a solo home run in the fifth for the eighth and final run for the Oilmen
"I thought he did a really good job of competing and limiting the damage. He probably didn't have his best stuff, but he pounded the zone," Manager Dave Letourneau said.
Letourneau preached the need for his outfield defense to get better, as another couple of misplayed balls led to extended innings for his starter. Offense on the other hand, proved to be a strong suit for the Vikings on Saturday.
After going quietly the first time through the lineup, the Vikings began barreling up the ball, driving in three runs in both the fourth and fifth innings. Anthony Rios and Joe Egan each had two RBIs while PJ Raines brought a run in as well. Dashon Moore and Joe Curci joined Rios and Raines with extra base hits (all doubles) to spark the comeback.
"What I know in this league, you can get down early, you can take the lead early. But you're not handed anything," Letourneau said. "The returners from last year, they know that if you go down 5 or 6 to nothing, it don't matter. Nine inning games anything can happen."
Egan finished the rain shortened game 3-3, his second three-hit game out of two possible. In addition to the two RBIs, Egan also wreaked havoc on the bases, picking up a steal and maneuvering his way home for a big run in the fourth.
"He's a gamer. He's gonna give it everything he's got. I'm so happy to have him," Letourneau said.
With the 8-6 loss in the rear-view mirror, the Vikings will head into Bloomington-Normal with some confidence when they take on the Bloomington Bobcats (2-1) for a 1 p.m. matinee on Sunday at O'Neill Park, before back-to-back off days beginning on Monday.