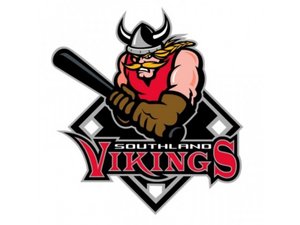 Chicago Heights, Ill. – June 1, 2019 – The Southland Vikings were bested by the DuPage County Hounds 9-8 in eight innings on Friday night at Hap Bruno Field.
Despite the offense putting up eight runs, costly errors and overall rustiness seemed to do the Vikings in as they allowed nine runs and fell to 0-1 on the season.
In the top of the first, the Hounds got things rolling early, with a leadoff single by leadoff man Nick Santoro. After a popout, Santoro was thrown out trying to steal second and teammate Jacob Hansen walked, setting up a two out blast for Jack Anderson that would pop in and out of centerfielder Kyel Alexander's glove. A run scored but Anderson would be stranded at third.
The bottom half of the inning would see the Vikings rally with six runs, all with two outs. Alexander and Dashon Moore led off with two quick singles, but then two quick outs followed. PJ Raines walked to load the bases, and from there DuPage starter Malik Binns would issue four walks and two hit batters to allow 6 runs before getting a strikeout to end the inning.
"I don't think we barreled up enough baseballs," manager Dave Letourneau said. "Their pitcher was a little out of control. I thought we were fortunate to get six, because if he only gets two or three (runs) there, the momentum goes to them right away."
The Vikings would not hold on to that lead long, as the Hounds scored three in the third off Vikings starter Jake Ruppert and four in the fourth, including three unearned runs to stake themselves to an 8-6 lead. Runs in the fifth and sixth innings would bring the Vikings into a tie at 8-8, but Trey Ricko allowed the game winning run to score on a bases loaded walk in the top of the seventh. Umpires would then call the game after the eighth inning for darkness.
Letourneau recognized the two biggest issues for the Vikings were the errors and an inability to throw first-pitch strikes.
"The fact that the errors happened all after two outs, in that situation as a pitcher you got to bear down and get us back in the dugout," Letourneau said. "The inability to throw strikes, that's what cost us today."
The Vikings will try and get in the win column Saturday when they take on the Northwest Indiana Oilmen (1-1) at Hap Bruno Field. The games start time has been moved to 4 p.m. from it's original 1 p.m. scheduling.