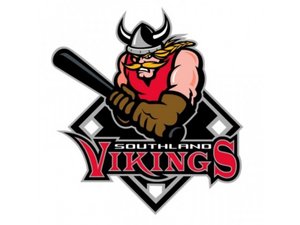 Chicago Heights, Ill. - May 28, 2019 - The Southland Vikings enter the 2019 season, their 10th in the Midwest Collegiate League, with their sights set on capturing their fourth league championship.
Manager Dave Letourneau returns for his second season with the Vikings after leading them to the playoffs in his first season at the helm. Letourneau, who is also an assistant coach for St. Rita's Varsity squad in the midst of a postseason run themselves, senses a deep playoff run is in order for Southland.
"There's a lot of guys who enjoyed it a lot and realized there's a chance we can win it all this year," Letourneau said. "I think the goal going in is a championship."
Letourneau's belief is aided by the many returners (seven to be exact) from last year's playoff team, as well as an influx of new incoming talent to the roster as well.
The Vikings will rely once again on core players like Logan Anderson (South Suburban/Frankfort, Ill.), Joe Curci (Rensselaer Polytech/Chicago, Ill.) and 2018 MCL All-Stars Justin Rios (North Central College/Lemont, Ill.) and Dashon Moore (University of Illinois Springfield/ South Holland, Ill.)
"When they were good, we were good," Letourneau said.
Perhaps most important out of that group will be Rios. The rising sophomore played the outfield and pitched, maintaining a crucial role to the team's success. In 27 innings last year, the lefthander recorded 19 strikeouts to go along with a 3.67 ERA, while hitting .261 and collecting 23 total bases while manning center field. Letourneau is confident that Rios will deliver more of the same after getting a collegiate season under his belt at North Central.
"I'll take Justin Rios over anyone in the league and that's a fact," Letourneau said.
Rios and Co. will be joined by other fellow returnees like right-hander Mike Rios (College of St. Joseph/Chicago, Ill.), infielder Kellen Quigley (Webster University/Bolingbrook, Ill.) and infielder P.J. Raines (Santa Rosa Junior College/Mokena, Ill.).
New additions like Mike Tobin (Concordia University/Hickory Hills, Ill.) and Anthony Rios (Lewis University/Lemont, Ill.) figure to be immediate impacts for the Vikings. Tobin picked up eight saves and struck out 22, to go along with a 2.22 ERA in 28 innings with Concordia, while Anthony Rios, the older brother of Justin, impressed behind the plate at Lewis throwing out 21 base stealers while also hitting .302 with 15 doubles, two home runs and a .432 slugging percentage.
Southland will make their maiden voyage into their title conquest on Wednesday, when they host the Crestwood Panthers at 5 p.m. at Hap Bruno Field to open the 2019 MCL season. For more information on the team and where you can watch games, visit southlandvikings.com or the Southland Vikings Facebook page.