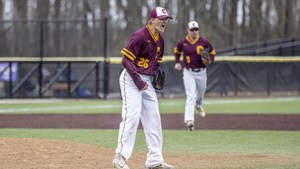 Chicago Heights, Ill. - May 20, 2019 - The Southland Vikings announced their roster for the 2019 season, their 10th in the Midwest Collegiate League, on Monday. The Vikings are coming off a 23-13-1 season which saw them place third in the MCL, earning a playoff berth. They were eliminated in the semifinals by the eventual league champion Northwest Indiana Oilmen. Manager Dave Letourneau returns for his second season at the helm after wrapping up another season as the sophomore coach at St. Rita.
Logan Anderson, 1B-3B, South Suburban College / Frankfort, Ill./ Providence Catholic Anderson returns for his second year with the Vikings after batting .375 with a .432 on-base percentage in 21 games last summer. Anderson also completed his freshman campaign at South Suburban College, helping guide his team to a 38-19 season record. Prior to South Suburban, Anderson played his high school ball at Providence Catholic.
Victor Aguilar, LHP, North Central College/ Blue Island, Ill./ St. Rita Aguilar threw back-to-back complete game shutouts against Simeon and St. Joe'sas the senior southpaw played a big role for the Mustangs. He was part of a deep pitching staff that led St. Rita to yet another Chicago Catholic League Blue Championship. This will be Aguilar's first season with the Vikings before joining Southland teammate Justin Rios at North Central College in the Fall.
Michael Botthof, RHP, Moraine Valley/ Palos Hills, Ill./ St Rita A 2018 graduate of St. Rita, Botthof adds depth and versatility to the Vikings pitching staff. Scouts note the 6-foot-2 righty's arsenal includes some nice offspeed pitches, along with a fastball that tops out at 82. Botthof, who pitches his college ball for Moraine Valley Community College, enters his first year with the Vikings
Daniel Brannigan, RHP, Dominican University/ Lemont, Ill./ Lemont HS Another former St. Rita player, Brannigan transferred to Lemont for his senior season after going 3-2 with a 3.64 ERA in 34.2 innings pitched in his junior season at St. Rita. Allowing less than one hit per inning while striking out 23 batters, Brannigan will play a crucial role for the Vikings this season before he heads off to River Forest to play for Dominican University in the fall.
Christian Carr, Utility, Harper College/ Chicago, Ill./ Simeon Carr batted .281 in 13 games during his freshman season at Harper College, driving in three runs. Carr's versatility will be useful to the Vikings in his first year with the team, as he can play a number of positions including pitcher, appearing twice with Harper and picking up the victory both times. Carr is a product of Simeon's baseball program.
De'Shawnte Carraway, Catcher/3B, Harper College/Hazel Crest, Ill./ Thornton HS A teammate of Carr's at Harper College, Carraway's bat will make an immediate impact in the Southland lineup. In 23 games between the hot corner and behind the plate during his freshman season, Carraway hit .292 along with a home run and 14 RBI. Carraway also flashed some speed with four triples and four stolen bases. The Southland newcomer played his high school ball at Thornton High School
Joe Curci, 1B, Rensselaer Polytech/Chicago, Ill. /Rollins College The lone holdover from Southland's championship team in 2017, the veteran Curci is an immediate-impact bat who figures to leave a bigger mark this season. After slashing .269/.324/.343 last summer with Southland, Curci made his sophomore year count, slashing .324/.369/.448 to go along with two homers, 33 runs driven in and 14 extra-base hits in 39 games played. Prior to playing at RPI, Curci played for Rollins College.
Billy Curtis, 1B/2B/OF, Moraine Valley/ Lockport, Ill./ Trinity Christian Curtis joins the Vikings after concluding his sophomore season at Moraine Valley. The versatile Curtis hit .255 with a .736 OPS and two home runs over 34 games for the Cyclones. However he did most of his damage in conference, with a .333 average and an OPS of .982, plus both home runs against conference foes. Curtis struck out just 15 times in 20 conference games, while gathering 17 hits in that span. Prior to playing for Moraine Valley, Curtis was on the team at Trinity Christian College.
Joe Egan, OF, Loras College/Chicago, Ill./Mt. Carmel HS An outfield specialist, Joe Egan will provide depth and experience in the Southland lineup. In his freshman campaign at Loras, Egan hit .245 with 6 doubles and 10 RBI over 33 games. Perhaps more impressive, Egan had three outfield assists and just one error credited to him during the season. Another product of the Chicago Catholic League, Egan played his high school ball at Mount Carmel.
Zach Litke, RHP, Concordia University/Oaklawn, Ill./Brother Rice Doing a little bit of everything in his freshman campaign at Concordia, Zach Litke could prove to be one of the most versatile arms on the Southland staff. Over 25 innings, Litke posted a 3.96 ERA and 22 strikeouts, as opposed to 10 walks. While most appearances were in relief, Litke managed to pick up a save and had a start in which he went seven innings and did not allow a run. This will be Litke's first season with the Vikings.
Max Malley, C/OF, University of Evansville/Frankfort, Ill./Marist HS A high school senior at Marist, Malley is batting .375 with 6 extra-base hits and 18 RBIs as the high school season continues to wind down. The Evansville commit will provide Southland with even more versatility and depth at the catcher and outfield positions.
Dashon Moore, MIF, University of Illinois-Springfield/South Holland, Ill./South Suburban Moore returns for another season with the Viking's as perhaps the teams most decorated player. An MCL All-Star last season, Moore slashed .315/.393/.419 driving in 20 and causing havoc on the base paths with a team-leading 12 steals. Before transferring to UIS for his junior season, Moore starred at South Suburban College, twice earning All-National Junior College Athletic Association Region IV honors while compiling career totals of 100 runs, 74 RBIs, 40 stolen bases, 25 doubles and six home runs to go along with a .368 average. In high school, Moore was equally impressive, earning two All-South Suburban Conference awards at Thornwood High School. This will be Moore's third season in the MCL and second with Southland
Jaime Prieto, RHP, Kishwaukee College/Chicago, Ill./De La Salle Though he will probably do more pitching with Southland, Prieto proved capable of playing the field as well as commanding the rubber in his freshman year at Kishwaukee College. In six games as a starter, Prieto compiled a 2-3 record along with a 4.00 ERA in 27 strikeouts over 27 innings pitched. Prieto appeared in 27 more games as a third basemen for Kishwaukee, batting .200 while driving in seven runs. This will be the Chicago native's first season with the Vikings.
Kellen Quigley, MIF, Webster University/Bolingbrook, Ill./Bolingbrook HS Quigley is another returner to the Southland roster looking to build on increased playing time at Webster University. Through 22 games played in his sophomore season, Quigley has made seven starts at shortstop while batting .308 and remaining errorless in the field. Last year in the MCL, Quigley appeared in 13 games for Southland while posting a .281/.378/.438 slash line. The rising junior played his high school ball at Bolingbrook.
PJ Raines, MIF, Santa Rosa Junior College/Mokena, Ill./IMG Academy Yet another returner from the 2018 Vikings, the well traveled Raines looks to pick up where he left off last season. Before leaving for Santa Rosa Junior College in California, Raines played in 22 games with Southland and displayed a good eye at the plate, drawing 10 walks while striking out only 12 times to go along with eight extra-base hits and a .284 batting average. Before his freshman year at Santa Rosa, Raines played his high school ball at St Rita before going to IMG Academy in 2018.
Trey Ricko, RHP, University of Tennessee Martin/Plainfield, Ill./Plainfield South Ricko joins the Vikings after his freshman season at UT Martin with the potential to be a big part of the pitching staff. In three appearances with the Skyhawks, Ricko allowed only one earned run while striking out four. Ricko was dominant in his high school career, going 3-0 with a 1.49 ERA during the 2016 season on the way to a state championship with Plainfield South. A fastball that tops out at 87 MPH and a variety of off-speed pitches make Ricko an intriguing edition to the Southland roster.
Justin Rios, OF/LHP, North Central College/Lemont, Ill./St. Laurence Rios joins Dashon Moore as a returning MCL All-Star who will play a big role for the Vikings. In 27 innings last year the lefthander manufactured 19 strikeouts to go along with an impressive 3.67 ERA, while hitting .261 and collecting 23 total bases while manning the outfield. In his freshman year at NCC, he went 2-1 and collected three saves striking out 27 over 22 innings pitched. Rios played his high school ball at St. Laurence.
Mike Rios, RHP, College of St. Joseph/Chicago, Ill./St. Rita Rios returns for year two with the Vikings after completing his freshman season at Calumet College of St. Joseph, where he made two appearances. Rios was a vital part of the Southland pitching attack in 2018, posting a 2.20 ERA, 15 strikeouts and two saves in 16.1 innings of work. Prior to St. Joseph and the Vikings, Rios played for St. Rita.
Anthony Rios, C, Lewis University/Lemont, Ill./St. Laurence The older brother of Justin Rios, Anthony Rios is primed to be a breakout performer in his first season with the Southland Vikings. Rios recently completed his junior season at Lewis in which he had a career year, hitting .302 with 15 doubles, two home runs and a .432 slugging percentage. He has produced offensively while remaining solid behind the plate, throwing out 21 would-be base stealers to go along with a .978 fielding percentage.
Mike Tobin, RHP, Concordia University/Hickory Hills, Ill./Stagg HS After turning in a dominating freshman season at Concordia, Mike Tobin has the potential to be a stabilizing force in the Vikings bullpen. In 18 games Tobin earned eight saves and struck out 21 to go with a 1.68 ERA over 22 1/3 innings pitched. Prior to Concordia, Tobin played at Amos Alonzo Stagg High School.
Steve Insley, MIF, Moraine Valley/Chicago, Ill./St. Rita A freshman at Moraine Valley, Insley joins the Vikings as a great addition to their infielding depth. In 42 games with the Cyclones, the St. Rita product drove in 14 runs and scored 16 times.