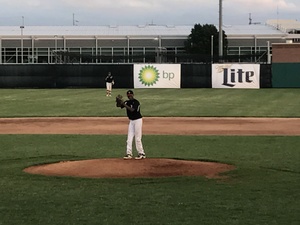 When things aren't going right for a team, they seem to continue to get worse, and that was the case for the Southland Vikings in their 5-4 loss to the Northwest Indiana Oilmen on Thursday night.
Southland attempted to make a ninth-inning comeback, but that came short, continuing the string of tough losses for the Vikings.
"It was a tough one," manager Kevin Franchetti said. "I put these guys in a bad position with some of the calls and positions on the defense, and it kind of backfired on me."
Brandon Thomas put together a strong performance in his third outing of the season. The Oilmen scored their first two runs in the fifth inning when Thomas allowed two doubles and an error to start the inning. Northwest Indiana added a run in the sixth, securing a 3-1 lead that was more than enough.
The right-handed pitcher put together a much stronger performance, allowing three runs — two earned — on six hits in 5 and 2/3 innings pitched, but the few runs that he did allow was too much for the Vikings to overcome.
"I feel like the whole mindset was to not think too much," Thomas said. "I just wanted to pound it and take it from there."
The Vikings got after the Oilmen in the third inning when they led off with two singles and an error by the Northwest Indiana third baseman. Joe Graziano threw a wild pitch two give up a run to Southland, but a double play and a fly out ended the Vikings threat.
The Vikings scored three runs in the top of the ninth inning on a home run from Decero, but that wasn't enough for Southland to come back and win. Southland could've added another run in the fourth when they had runners in the corners with one out, but Gomez was caught stealing second and a groundout ended the inning without any Vikings run.
Offensive inefficiency seemed to be the theme of the game as the Vikings out-hit the Oilmen but couldn't find a way to get back into the game. The most grueling example came in the seventh when Southland loaded the bases with two outs but Kenjic struck out looking on what looked to be a high ball but called a strikeout by the umpire.
Franchetti wasn't pleased with the calls but also knows it's up to his team to not let those moments decide the game.
Southland continues its road trip to DuPage on Friday night where the Vikings will try to rebound against the Hounds.