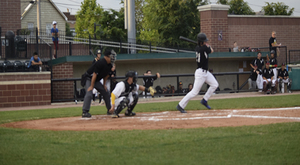 The Southland Vikings couldn't overcome the issues of the past two weeks in their 6-3 loss to the Joliet Admirals on Wednesday night.
Southland displayed its blemishes that led to the team losing seven of its last nine game. The Viknigs struggled to score runners who were in scoring position, leading to an effort that looked too familiar for manager Kevin Franchetti.
Struggles started for starter Hunter Keim early in the game. The pitcher allowed three singles in the first inning, which were followed with three runs. Keim allowed two more in the second and one in the seventh to put this game out of reach for the Vikings office.
Keim finsihed the game pitching six innings, allowing six runs — five earned — on eight hits. It was a similar performance for the right-hander who made his second appearence of the season, although he pitched three more innings in this outing as opposed to the earlier start of the season.
The poor early pitching was too much for the slumping offense to overcome. Southland left 10 runners on base and scored all of its three runs in the ninth before a stikeout ended the comeback push.
The Vikings will need to turn things around quickly, with a trip to Northwest Indiana set for Thursday night.