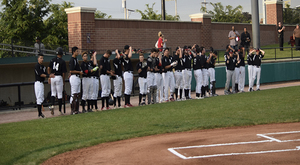 The Vikings looked like their old selves Saturday night, finding different ways to score runs while also limiting the Northwest Indiana Oilmen, winning 9-3.
Saturday's performance was one that led Southland to the top of the MCL standings during the first two weeks of the season. Manager Keven Franchetti told his team to remain focused and steady, and that's what his players did in what was a textbook game for the squad.
The main reason for that success revolved around an offense where players hit timely and scored runs in many different situations. After both teams scored a run in the first inning, the Vikings scored four runs in the second after starting the inning with three singles and an error.
Southland went on to score one in the fourth and three in the seventh to ensure that the Oilmen would not find a way to return in the game. Every batter except one had a hit in the game and five players had two or more hits.
Jack Gainer continued his strong recent offensive performance, going 4-for-5 on Saturday with three RBIs while also scoring one run. Gainer's strong weekend has led to six RBIs and the same amount of hits.
The nine runs were more than enough for a pitching staff that seemed to find its groove again, especially starter Kevin Glynn. The starter threw six innings of five-hit ball, allowing three runs while striking out seven.
It was a strong bounce-back performance for Glynn who just two appearances ago gave up seven runs on nine hits in five innings.
Southland will try to continue the strong mojo against the Joliet Admirals on Sunday.