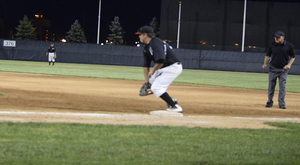 Things continue to go from bad to worse for the Southland Vikings as the team couldn't compete against the league-leading DuPage County Hounds, losing 17-8 Friday night.
Southland put together another error-filled, more-pitched outing that has tormented the Vikings during their six-game losing streak. Friday's performance was one the Vikings know they can't put together if they want to dig out of this week-long funk.
The struggles began in the top of the second inning after the two teams each scored a run in the first. DuPage started the inning with three walks and three singles, which allowed the Hounds to get out and ahead of Vikings starter Stroud. The Hounds chased Stroud out of the inning and scored 10 runs in the second, creating a gap that was too much for the Vikings to catch up to.
Stroud ended up pitching a 1 1/3 innings, allowing nine runs —eight of which were earned — on six hits and six walks each. Friday was another outing where Vikings manager Kevin Franchetti couldn't get as much out of his pitching staff as he needed to. The entire staff ended up giving up a total of 16 hits, 11 walks and three home runs.
The offense turned things around, although it probably was too little too late. Torrence Summerlin and Jack Gainer each led the teams with two hits and Gainer was the lead man with three RBIs. Southland had many different opportunities, but in contrast to the beginning of the season, the Vikings couldn't find ways to drive in runners in scoring position.
The Vikings could've made more damage in the top of the first with runners at second and third, but a strikeout ended the inning and any threat of the Vikings competing in the game.
The Vikings will look for any type of answer to their struggles with a trip to Northwest Indiana on the schedule for Saturday night. Showers might be in the area, but Southland will focus on what they can control to turn things around.