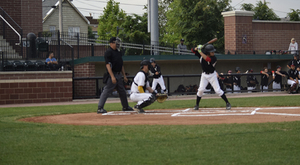 The Southland Vikings continue to struggle, and that was evident once again when the team lost to the Crestwood Panthers 9-8 on Thursday night.
For a team that led the league in wins a week ago, things have changed over the week during the Vikings' five-game losing streak. The offense has not been consistent, scoring 12 runs in the previous four games before the team scored eight Thursday. Pitching has been an issue too — eight runs is the least amount of runs the pitching staff has allowed during the losing streak.
It's been a cliche rollercoaster season for the Vikings, but manager Kevin Franchetti knows that's the way a long season goes, whether it's for the better or worse.
"Unfortunately, we've had the highs and now we're running on the lows," Franchetti said. "You're going to have those bumps in the road and we need to fix those."
The lack of success has come through different avenues. His team played a error-filled game against the Northwest Indiana Oilmen, but an hour delay because of the lack of umpires to start the game put his starting pitcher in a rough situation. The team has also had to play doubleheaders, forcing his pitching staff to be depleted of available arms.
But Franchetti knows that those are just excuses and the blame starts with him. Franchetti admitted after Tuesday's game that he could've gotten his team more prepared than he did. He's started to address the issues with his players, taking them to the side and talking about what he's seeing so that there can be some improvement in the play on the field.
The manager remains encouraged despite the struggles. He knows that his team will need to go back up eventually — he just hopes it'll be quicker rather than later.
Try to use past performances before," Franchetti said. "We try to talk to them. It's a humbling game, and we need to talk to them and tell them they'll be OK."