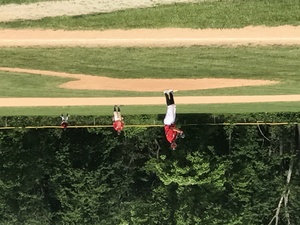 The Southland Vikings didn't score as many runs Saturday as it had the previous games, but that was more than enough behind a stellar pitching performance in a 7-1 win over the Northwest Indiana Oilmen.
Southland roughed up Northwest Indiana pitching early in the game and needed little support later on after Kevin Glynn got into a groove.
"This was exactly the team I put together," manager Kevin Franchetti said.
Glynn threw 5 2/3 innings of one-run ball, allowing eight hits and striking out three. The pitcher looked confident throughout the game, even in difficult situations. The Oilmen loaded the bases both in the second and third inning, but failed to score any runs as Glynn kept off the pressure.
Glynn continued to stay strong, as the Oilmen couldn't figure him out, creating a good outing for the starter.
"No complaints," Glynn said. "Everything was working."
Southland's run support started in the second inning when the Vikings got on base with two consecutive walks and a single, which loaded the bases. The Oilmen's Geraci hit the next batter and two consecutive singles scored three more runs.
The Vikings added two runs in the third inning to add a cushion to a strong pitching performance from Glynn. Franchetti was happy to see that his team continued to build upon a strong hitting performance to the season — Joe Curci led the team with two hits and the Viings took advantage of situational hitting despite leaving nine on base.
"It's awesome (to get those runs)," Glynn said. "Once we get those first runs, it's awesome, and I can just settle in."
Southland won the first game of a doubleheader, which only seven innings were played. Franchetti was finally happy to see his team play for the first time — he joined the team Saturday after missing the first week of the season with Quincy University.
Although he just joined the team, he's encouraged to see the progress the team has made early on in the season. "I love (being here)," Franchetti said.
"We're going to go out there and play the game right, and have fun. That's what happened out there."