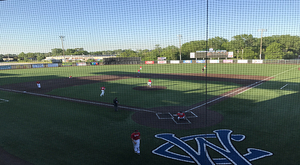 The Southland Vikings continued to tear up opposing pitching, this time with an 9-4 win over the Crestwood Panthers on Thursday night. Much of the recent success at the plate has come through situational hitting.
The Vikings (2-0-1) didn't use the home run ball this time, but doubles and singles with men on base allowed Southland to attack early and often against the Crestwood pitching staff.
"If we're able to do that, we're going to be very successful this season," interim manager Alex Triantafillo said.
Southland scored two runs in each of the first two innings, but scored the go-ahead runs in the fifth. With the game tied at four, the Vikings started the inning with a walk and two singles before Tom Decero ripped a triple down the right field line all the way to the corner, unloading the bases.
The Vikings added a run in the sixth and a run in the eighth to assure the Panthers couldn't make a game of it late.
"We've been aggressive, which has helped us to put up runs and helped us win," Decero said.
The hot hitting helped in what was a shaky performance for pitcher Jalen Davis at the beginning of the game. The pitcher allowed four runs in the first two innings, three of which were earned, while giving up seven hits in three innings.
Hunter Kraynak came in relief and was unhittable, not allowing a hit in four innings pitched and striking out one Panther.
After a day of rough relief pitching, it was encouraging to see the middle relievers get some work and have little trouble with the opposing order.
"It's what we need," Triantafillo said.
Southland will try to continue the hot hitting against the DuPage Hounds at home on Friday evening.
With such a strong start, it's hard not to remain optimistic about what could continue to happen for the young group.
"We have a lot of spark plugs at the top of our order," Triantafillo said. "That's one thing that's going to produce for us."