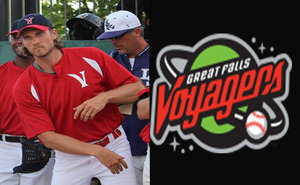 CHICAGO – Former Southland Vikings manager John Ely has landed a job as the pitching coach for the Great Falls Voyagers, a Chicago White Sox minor league affiliate.
"Growing up a White Sox, still a White Sox fan, it is exciting," Ely said. "Coaching Chicago State and coaching the Southland Vikings this past year helped get my name out there."
Buddy Bell, Vice President of Player Development and Special Assignments reached out to Ely to coach in instructional league and Ely succeeded so Bell offered Ely the pitching coach position for the Voyagers.
Ely, who managed the Southland Vikings in 2016 led the Vikings to a 18-26 record and a fifth place finish in the Midwest Collegiate League.
"It was a humbling experience. Connected on a personal level with the guys being the only coach there," Ely said. "It really helped me become a coach instead of a player and it connecting with the players to help them succeed."
Ely, who was a college standout for the University of Miami University of Ohio, got drafted by the Chicago White Sox in the third round in 2007.
Ely spent nine years inside the White Sox, Dodgers and Astros, Brewers organizations.
"I will be able to bring my experience to the guys and any help I can give," Ely said.
As for the plans with the Voyagers, Ely plans to bring his competiveness with him. "Knowledge of the game, playing all the way through the ranks, going through the highs and lows, having surgery" Ely said.
"Give them advice, answer any questions, get people committed to going to the next level of play be the best I can for them.