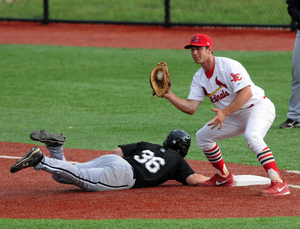 The often-discussed grind of minor league baseball became a harsh reality for former Southland Viking Justin Ringo.

While inevitable slumps, long bus rides and the uphill climb of trying to reach the major leagues took its toll on the Stanford graduate, Ringo knew he had something that many of his minor league peers did not: an education to fall back on.

Now, Ringo has called it quits after three years in the professional ranks and turned to his post-baseball life. He landed a job at Stryker Medical, doing medical device sales for the spine division in Milwaukee.

"It makes the minors a lot easier when you have a college degree," Ringo said. "I felt bad for some of the younger guys who got drafted out of high school and decided to sign. They might have gotten a little bit of money, but if they're struggling in the minors and they go for five or six years and it doesn't work out, they're back to square one. The degree is very important."

Ringo went from the Cardinal to the Cardinals in 2013, when he was drafted by St. Louis in Round 28 of the Major League Baseball First-Year Player Draft.

Ringo didn't receive significant playing time his first three seasons at Stanford, so he spent most of his senior year looking for jobs.

"As the season went on and I started talking to scouts, it started to seem like I was going to get drafted," he said. "I shut down the job search in May. Once the draft came along, 25 rounds went by and I hadn't been picked yet, so I started to get a little bit worried. It was an unbelievable moment when I got a phone call from a Cardinals' scout saying they wanted to take me."

Ringo started his career in style, batting .300 for the Johnson City Rookie Ball team in 2013 and .294 for Class-A Peoria in 2014. At age 24, he returned to Peoria for 2015, and was released after batting .248 over the first 38 games.

Ringo received phone calls from independent teams including Gary and Joliet, but unlike so many athletes, he had come to terms with the fact that the time had come to leave the game.

"You've got to be real with yourself," he said. "I could play a little bit, but being in the minors for a couple years, I saw the talent rolling through. There were guys that were much better than me and four years younger than me. I was ready to move on."

Three professional seasons provided Ringo the chance to play with a wide variety of individuals. Minor league baseball players come with diverse backgrounds, some from countries outside of the United States, some straight out of high school and others out of junior colleges and various four-year programs.

The most memorable moment of Ringo's baseball career came on a Friday night in front of a large Stanford crowd, when he blasted a walk-off home run in the bottom of the 10th inning to give the No. 2 Cardinal a 3-2 victory over No. 4 Rice.

Ringo played in the MCL (then known as the Great Plains League) in 2010, earning Most Valuable Player honors by compiling a .365 average, .692 slugging percentage and .570 on-base percentage.

"It's good to get reps in the summer," Ringo said. "I didn't play a whole lot early in college, so the summer was very important in trying to develop my game. The league was close to home. I was able to get at-bats in and work on some things to get better for the upcoming college season.
Although his baseball days are said and done, Ringo has no regrets about the countless hours he dedicated to America's past time.

"It takes a lot of hard work," he said. "You have to be talented, but you have to be able to work hard. My entire life, I was always in the cages for a long time, taking endless hacks. It's a full-time job. You have to keep your priorities straight and you have to have a plan. Baseball is a frustrating game and you will fail over and over again. It comes down to staying positive."