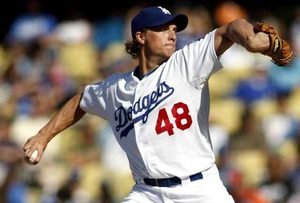 Chicago Heights, Ill. – January 20, 2016 – Each summer, collegiate players gather as members of the Southland Vikings in order to continue their pursuit of the ultimate goal: Major League Baseball.
It's only fitting that when the 2016 Vikings compete for a Midwest Collegiate League title, they'll do so under the direction of a local athlete who lived that dream. Homewood-Flossmoor graduate and former Los Angeles Dodgers pitcher John Ely has been named the manager of the Southland Vikings.
Ely recently began his coaching career working with pitchers at Division-I Chicago State. This summer will mark his first managerial assignment.
"I have a wealth of information that I've built up over the years of playing at every single level, from independent ball all the way up to the major leagues," he said. "From the lowest of lows to the peak of the mountain, I've been through it all. I can definitely guide kids who have the potential to play at a high level."
Ely will never forget the day he received the news that he had been selected by the Chicago White Sox, his favorite team growing up, in the third round of the 2007 Major League Baseball Draft.
"That was one of the single most exciting and happy days of my life," Ely said. "Hearing your name rattled off, especially in a high round, was incredible. Being able to be home with my friends and family that day and see all of the support was really special."
It was the start of a successful career, which featured 39 appearances (29 starts) at the big league level over three seasons. While the memories from his professional tenure are numerous, it's two of those starts with Dodgers that stand above the rest.
Ely made his big league debut on April 28, 2010 after being summoned from Triple-A. Although he took the loss and allowed five runs in six innings, pitching in a Major League Baseball game for the first time is an experience he'll never forget.
"You dream about it your entire life," Ely said. "If you're fortunate enough for it to happen, it's almost better than you could possibly expect. It's one of those things where you have no idea what to expect. While it's happening, it's such a different rush of emotion."

But even the story of that initial start pales in comparison to what happened just three weeks later. The 24-year old rookie took the ball at Wrigley Field in Chicago and engaged in a pitchers' duel with veteran lefty Ted Lilly.

The Cubs managed only one hit in the first six innings and were still scoreless through seven. However, Lilly matched Ely zero for zero. A Tyler Colvin double to plate Mike Fontenot snapped the scoreless tie and chased Ely from the game with one out in the eighth. He took the hard-luck loss, but will never forget that showing in front of numerous friends and family members.

"I threw really well that day in front of everybody that had ever supported me," Ely said. "I got a standing ovation coming out of the game in the eighth inning. I can't explain in words how incredible that felt. I remember Jamie Carroll came up to me after the game and said, 'Hey man, that was the one of the most incredible and spectacular things I have ever seen on a baseball field.'"

After three more years of splitting time between the Dodgers and Triple-A Albuquerque, Ely was traded to the Houston Astros. He entered the 2013 season ready to compete with Dallas Kuechel for the fifth spot in the rotation, but an injury derailed those plans. He started the year at Triple-A Oklahoma City, but after one game was shut down and underwent Tommy John surgery.

"I tried to tough it out, but with an injury of that magnitude, it's unavoidable that you're going to need surgery," Ely said.

Ely returned in 2014 with Boston and had a strong season out of the bullpen at Triple-A Pawtucket. In 2015 he signed with Milwaukee, and after another few months of grinding through elbow pain, he underwent another surgery.

"That was the one where they were skeptical that I would ever be healthy again," Ely said. "They released me before I had the chance to prove that I was healthy. It's not their fault; I didn't come back the way I thought I was going to. I can still throw, and I think I could still compete at the major league level right now, but I'm not sure in what capacity due to the multiple surgeries and the pounding that my arm has taken over the years."

Although he doesn't rule out a return to the diamond if the opportunity presents itself, Ely's focus now belongs to kick starting his coaching career at Chicago State and in the Midwest Collegiate League, where he replaces Tony Sanchez as Southland manager.

"I like to let the kids play to be honest with you," Ely said. "I'm going to fill in the blanks where I can for these guys, but the best way for people to learn is through experience."