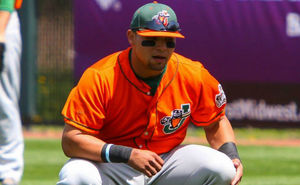 Flossmoor, Ill. – April 16, 2015 – The Southland Vikings of the Midwest Collegiate League have announced the hiring of Tony Sanchez as the team's manager for the 2015 season.
A new era begins as the team welcomes a new skipper for the first time since 2011. Sanchez takes over a program that has achieved tremendous success in recent years, as the Vikings enter 2015 having won back-to-back MCL titles.
Sanchez will look to leave his own mark as he accepts the first managerial assignment of his career. He recently finished a playing career that included stops at Heartland Community College, Chicago State and North Park. After playing his senior season at North Park, he remained with the team and is now in his third season as a graduate assistant for head coach Luke Johnson.
"Having Luke as a coach, I really learned about hard-nosed baseball," Sanchez said. "There is a lot of attention to detail. I've loved being able to work with a bunch of young guys for the past three years and seeing them take hold of what I've been trying to put in their brains is unbelievable."
Sanchez was a catcher during his playing days, earning all-conference, all-region and all-American honors in 2012, his lone season playing at North Park. Sanchez led the team in home runs with six and ranked second in batting average at .384.
He also has fond memories of his first two years out of high school, playing for coach Nate Metzger at Heartland Community College. Even in the early days of the junior college program, the professionalism of Metzger led to immediate success.
"The program is built to win," Sanchez said. "Right away, you are part of a winning program. Winning came natural there, and that's a mentality that I took the rest of my college career."
Winning and team success became the norm for Sanchez through his first two seasons of collegiate baseball, but he was quickly humbled while playing his junior year at Division-I Chicago State. He battled through an injury-riddled campaign, eventually transferring to North Park after one season.
Sanchez's career also included a stint playing professionally with the Frontier League's Joliet Slammers in 2012. After undergoing hand surgery that cost him the 2013 summer, Sanchez tried out for the Slammers again in 2014. He was released after spring training, but stayed with the team as a bullpen coach for the remainder of the season.
"I caught bullpens and helped out the pitchers with arm slots and locations," Sanchez said. "I let them know what was running and what was breaking, what's heavy and what's tailing. I was really able to learn from the coaches at the professional level."

Following his sophomore year of college, Sanchez played for the Lexington Snipes, who are currently members of the MCL. He'll get his first chance to play against his former team, led by manager Billy DuBois, on May 31.

Sanchez plans to put together a defensively-sound team and listed hustle as an important ingredient to success. He replaces Chris Cunningham, who managed the Vikings from 2011-2014.

"If there's one thing that's grained into me, it's that I really want to win," Sanchez said. "I have a really good feeling about this."