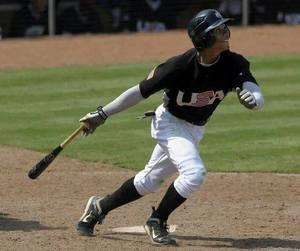 Not even one full year removed from playing with the eventual Midwest Collegiate League champion Southland Vikings, outfielder Corey Ray was making contributions to another team competing for a title this spring. This time, it was Louisville vying for a NCAA Championship in the College World Series.
The left-handed hitting Simeon Career Academy graduate made an immediate impact for one of the nation's premiere baseball programs. He posted a .325 batting average and drove in 17 runs while playing in 43 games as a freshman.
"It was a great year; it was a lot of fun," Ray said. "It started off rough. I didn't get as much playing time as I would have liked, but I continued to get better and be a good teammate. I finished strong."

The Cardinals reached the College World Series in Omaha before bowing out with a 5-3 loss to Vanderbilt and a 4-1 defeat to Texas. Ray soaked up his first trip to the hub of college baseball.
"The way that they treated us was first class," he said. "It was the best thing ever. From the time we got off the plane, to when we got to the hotel and there was Louisville stuff all over, to the amount of fans that came to support us, it was something I won't forget."
The first game of Ray's college career was a wild 7-6, 10-inning victory over West Virginia that took place in Charleston, S.C. He looked on as teammate Jeff Gardner launched a walk-off home run in the 10th.
"You know it's always going to be a good season when your first college game ever ends in a walk-off in extra innings," Ray said.
Ray is currently working on improving his speed and his pitch selection at the plate. He also wants to begin getting better jumps in the outfield and implementing baserunning as an aspect of his game.
Ray said his experience competing against collegiate talent while playing in the Midwest Collegiate League last season helped his transition to Louisville.
"I remember the pitchers telling me that it was going to be a rough transition," Ray said. "It's not like high school any more. They told me just to go in and keep my head down and keep my mouth shut and work. That's what I did and I think that helped me a lot."
Ray clubbed .328 in 17 games with Southland in 2013 after being drafted by the Mariners in the 33rd round out of high school. He elected to forgo an early start to his professional career and instead decided to head to college. Ray listed Jeff Boehm (University of Illinois Chicago) as one player who made a significant impact on him while playing with the Vikings.

According to Ray, there is a simple formula that helps Louisville set itself apart from other programs.

"The amount of work that we put in separates us from other baseball teams," Ray said. "We work on the small things more than anyone I've ever seen in my life and it works in the game. We're very fundamental and I think that's what makes us so good."