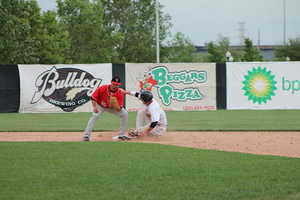 The Southland Vikings suffered a 5-4 loss to their rival Northwest Indiana Oilmen on Thursday night.

Brandon White of Hill College started for the Vikings, while Jimmy McNamara started for the Oilmen. White was coming off a season with a 1.98 earned run average and McNamara was coming into the game with a 1-0 record and his last start was a win against the Vikings. McNamara went six innings and did not allow a run.

White gave up one run in the first inning but was able to get out of a jam with runners on first and second with one out. White had a few other jams in the third and fourth, but he gave up three runs in the bottom of the fifth inning after the Vikings scored three in the top of the fifth. White gave up five runs as his day was cut short after pitching 4 1/3 innings. White was charged with the loss in the game.

McNamara went six innings while getting out of a few jams, but the Vikings had three runs in the top of the fifth inning with Bobby Shepard's key two RBI double. McNamara gave up four earned runs total. McNamara picked up his second victory of the season.

Evan Nietfeldt came in the game with one out in the bottom of the fifth inning, able to not allow the Oilmen to score another run the rest of the night, and Garrett Sherrell came in the game for the Oilmen in the seventh inning and pitched two innings, not allowing a run to score.

"He pitched a great game. I could not ask for a better game from a reliever," Vikings manager Chris Cunningham said. "White had a rough start, but Evan was able to not allow any more damage, while our offense had no answer."

Oilmen closer Matt Pobereyko came into the game to get his fourth save of the season.
Jason Gasser was the story for the Oilmen as he went 3-for-4 with a triple, two doubles and four RBIs.

With the loss Thursday night, the Vikings fall to 4-5 on the season and 12-12 all-time versus the Oilmen. The Vikings next game is Friday night as the team is home against the DuPage County Hounds.

"The Oilmen are a good team. They are our rivals they always give us good games," Cunningham said. "It is a long summer anything could happen. We are only nine games in."