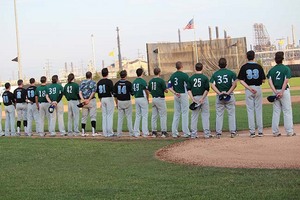 Chicago, Ill. – November 4, 2013 – The 2014 Midwest Collegiate League schedule has been released, as each of the league's six teams will play 42-game seasons.

Opening Night will take place on Tuesday, May 27 as the Northwest Indiana Oilmen and the Southland Vikings will face off at Oil City Stadium in a rematch of the 2013 MCL Championship Series.

The Rockford Foresters, who were one of the league's founding members, are rebranding as the Joliet Admirals in 2014. After playing the 2013 season as a road team, the Admirals will call Joliet Junior College home this season. Joliet plays its first game as the Admirals at home on Thursday, May 29 against Southland.

The Lexington Snipes open their second season in the MCL on May 28 with a trip to Northwest Indiana, while the DuPage County Hounds and Chicago Zephyrs open up on Friday, May 30 at Benedictine University.

The annual MCL All-Star Game, featuring the league's brightest stars, will return to Oil City Stadium in Whiting on July 9. The postseason begins on Tuesday, July 29 with the Midwest Collegiate League Championship Series slated to get underway on Friday, August 1.