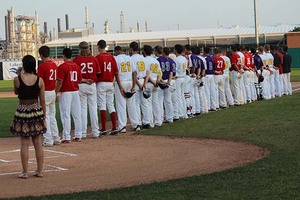 Chicago, Ill. – September 19, 2013 – The Midwest Collegiate League has released final attendance figures for the 2013 season. Despite a cold and wet May and early June which led to a damp start to the season, the league drew a total of 34,115 fans to the 104 MCL games that were played over the course of the summer, an average of 328 attendees per game.
The DuPage County Hounds led the league in average attendance, drawing 601 fans per game. The Northwest Indiana Oilmen ranked first in the MCL in total attendance, as 15,060 fans took in games at Oil City Stadium this summer. An average of 579 fans attended each Oilman game, while the Hounds drew 12,015 total fans to Benedictine Stadium in Lisle, Ill.
The league-champion Southland Vikings ranked third in league attendance with 3,818 fans over 20 home dates, an average of 191 attendees per game. The Lexington Snipes averaged 89 fans per game in their first year in the league, while the Chicago Zephyrs averaged 81 attendees per home contest.
The Rockford Foresters were forced to play their schedule as a road team, which contributed to the league's overall attendance decrease from 2012 to 2013. Additionally, the league played 10 fewer regular season games than it did in 2012 to help alleviate the travel requirements of the Foresters. The league anticipates adding those games back to the schedule for the 2014 season.
The Midwest Collegiate League, which was founded in 2010, provides premier summer collegiate baseball to communities across the Midwest.