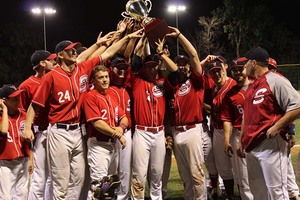 Flossmoor, Ill. – August 5, 2013 – The Midwest Collegiate League has named left-handed pitcher Chris Chigas and infielder Chris Sujka the Most Valuable Players for the 2013 MCL Playoffs. The duo helped lead the Southland Vikings to four straight postseason wins en route to the team's first ever league championship.
Chigas, who plays his college baseball at Phoenix College, is a graduate of Oak Law High School. He worked eight shutout innings of two-hit ball and struck out 10 to pick up the win in the clinching game of the MCL Championship Series, a 4-1 victory over the Northwest Indiana Oilmen on Sunday.
"All playoffs I've been getting guys out pretty consistently and I just got in the zone," he said. "I came at them as hard as I could. I had everything working for me. I was hitting my zone pretty good; keeping the ball down. It kept them off balance the whole way."
Chigas did not allow a run in 14 postseason innings including six-innings of no-hit baseball against the DuPage County Hounds on July 31. Chigas left that game with a no-hitter intact in order to keep his pitch count low with the MCL Finals on the horizon.
"He's one of those kids that just really knows how to pitch," Vikings' manager Chris Cunningham said.
Sujka is going into his junior year at Indiana University after helping the Hoosiers to the College World Series this past spring. He delivered a clutch, pinch-hit single and came around to score in a College World Series game against Mississippi State. The Mount Carmel graduate clubbed .500 (6-for-12) in the MCL postseason, blasting a home run, driving in four, drawing four walks, stealing two bases and scoring seven runs in just four games.
Sujka drove in the first run of the second game of the MCL finals by lifting a third-inning sacrifice fly. He went 3-for-7 and scored three runs in Southland's series sweep of Northwest Indiana. Cunningham called Sujka a catalyst of the team.
For both Sujka and Chigas, the MCL Postseason MVP Award is an exclamation mark on a successful summer with the Vikings. Sujka stroked .333 in the regular season and postseason combined, while Chigas finished the year 5-0 with a microscopic 0.78 ERA, 60 strikeouts and 16 walks.