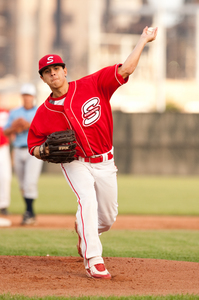 In last night's duel between opposing aces for the first game of the Midwest Collegiate League playoffs it was Southland's southpaw that came out of the game unscathed, earning the Vikings the victory in the first round three-game series against the DuPage County Hounds.

The battle of lefties did not disappoint the crowd at hand at Benedictine University, as it was a true pitchers duel with only one run crossing the plate in nine innings of play.

Viking's starter Aaron Hauge shutout the Hounds using his entire repertoire of pitches, going eight innings strong walking six while striking out 12.

"I was amped up when Coach Cunningham told me I'd be on the hill to start the playoffs," Hauge said. "We have worked so hard this summer that I did not want to let my teammates down with a bad performance."

Equally impressive for the Hounds was their lefty, Brett Maus.

Maus pitched the entire game for DuPage County allowing five hits to Hauges three, walking three while striking out eight Viking batters.

The only blemish on Maus' line was the one tally Southland was able to scratch across in the third inning by way of a Micah Rooke double that scored the speedy Sean Beesley from second base.

The Vikings now have a 1-0 lead in the three-game set, and will have two chances to take the series and advance to the championship.

The first of those coming tonight at Vikings Field, first pitch 7 p.m. CT.