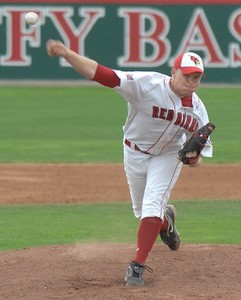 On a gorgeous night for baseball at Viking Field Southland hoped to end its two-game losing streak against the Lexington Snipes from this past weekend, but the Snipes continued to have the Vikings number on Thursday night.
Southland (4-4) has seen success this season against the majority of the other Midwest Collegiate League teams, but have not been able to get a W against the pesky bunch from Lexington (5-1).
A game that was dominated early by both respective starting pitchers Marcellus Sneed and J.D. Learnard, quickly turned into a Snipes rout due to walks given up by Viking pitchers as well as errors in the field behind them.
Sneed, who cruised early on, ran into some trouble in the top of the fifth inning when he walked the first two Snipes he faced. Southland head coach Chris Cunningham had seen enough from his big lefty and called upon Kevin Halberg in relief out of the bullpen.
Halberg has been an efficient option out of the pen for Cunningham but was unable to keep the Snipes off the board, surrendering six runs on four hits in two innings of work.
Halberg didn't have much help from his defense though, as three of the runs the Snipes scored off of him were unearned in most part due to two costly errors by Viking third baseman Chris Stevens on routine ground balls that would have ended the inning for Halberg.
Learnard had it all going in the game, pounding the zone with his fastball while keeping Viking hitters off balance with an array of off-speed pitches that he used effectively as out pitches.
Learnard earned the win for Lexington pitching seven innings allowing two earned runs while striking out four, moving to 2-0 on the season.
One positive for the Vikings was the continued hot hitting of first baseman Jeff Boehm.
Boehm, who earned the nickname "The Bomb" after blasting two homeruns in his first two games with the Vikings came ten feet from hitting for the cycle in Thursday's game as Snipe's left fielder Eric Fight snagged Boehm's warning track effort in his final at bat of the game.
Boehm leads Southland in every major hitting statistic and without him the Viking's offense would be reeling.
Southland looks to rebound from their 8-3 loss tonight at home against the DuPage County Hounds who are tied atop the MCL with a record of 5-1.