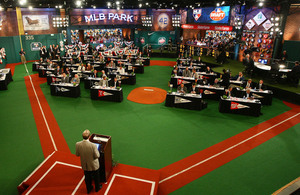 On day two of the Major League Baseball draft many names were called to the podium but one sticks out to the fans of Southland nation.
As MLB Commissioner Bud Selig announced the Toronto Bluejay's 5th round draft pick Viking pitcher Dan Lietz's dreams came true.
Lietz was selected today by the Jays at number 145 overall in the 2013 draft, a feat that Lietz said he never imagined becoming possible.
A standout pitcher throughout his years at Homewood-Flossmoor High School and the lone season he played for the Heartland Community College Hawks in Normal, IL, Lietz is a 6-foot-2 19-year-old southpaw who has a devastating fastball that he mixes in with a slider and a changeup.
Lietz, who has already announced that he will be accepting the offer the Bluejays put in front of him, should continue to grow and fill out his tall frame while adding velocity on his fastball.
"This was the most exciting thing that has ever happened to me," Lietz said.
"I have been waiting to hear my name called for quite some time, I am going to make the most out of my opportunity with the Bluejays while taking in everything along the way."