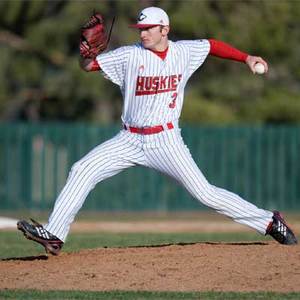 In last nights game between the Southland Vikings and the Rockford Foresters, pitching was the key element which decided the outcome of the ballgame.
On a night where the wind was blowing in at Viking Field, both teams knew it would be tough to score runs by way of the long-ball. That proved to be true as only one ball left the ballpark, coming off the bat of Viking first-baseman Jeff Boehm, his second blast in as many games.
Boehm's 5th inning two run-homer, as well as the other five runs the Vikings were able to scratch across the plate against the trio of Forester pitchers Brock Borgeson, Tyler Mitchell and Kevin LaPorta, were overshadowed by the phenomenal job Southland's pitching staff did during the game.
After starter Marcellus Sneed surrendered one run in the top of the first inning by way of some control issues, he and the rest of the Viking pitchers that took the mound were able to mow through the Forester lineup with ease.
Winning pitcher Declan McCarron relieved Sneed after three innings of work and followed it up with two scoreless innings of his own. Relieving McCarron was the hard throwing Kevin Halberg who followed suit with two scoreless frames of his own.
The Vikings were hitting their spots and breezing through the Rockford batting order in a game that took only a little over and hour and a half to complete.
Once the set-up closer tandem of Troy Josa and Anthony Andres took to the rubber in the 8th and 9th innings the game was all but over, as head coach of the Vikings Chris Cunningham said Viking fans and opposing teams can expect to see the two players in those bullpen roles for the remainder of the summer.
Brock Borgeson was saddled with the loss for the Foresters, as Viking center fielder Sean Beesly wreaked havoc on Borgeson as well as the rest of Rockford's staff by utilizing his speed to beat out what seemed to be routine ground balls, coming around to score twice in the game.
Tonight the Vikings (2-0) travel to Oil City Stadium in Whiting, IN to square off with the Northwest Indiana Oilmen (0-1) who fell to the Lexington Snipes on Wednesday night.
Southern Illinois University pitcher Aaron Hauge will have the ball for Southland in what has always been an intense rivalry between the two Midwest Collegiate League teams.