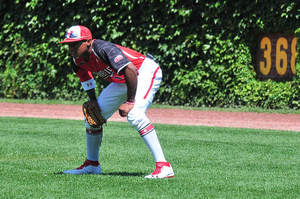 After winning back-to-back city titles at Simeon High School in Chicago and signing to play at the University of Louisville next fall, Corey Ray has just about accomplished everything a baseball player at his age can while doing it at the highest level.
The next step for Ray is deciding his career path in baseball, and a lot of that will be determined by the upcoming Major League Baseball draft.
After a monster senior season at Simeon where the 5' 11", 190-pound left-hander hit .513 over his final 13 games with four doubles, five triples, three home runs, 19 RBI and 16 stolen bases, Ray is projected to be drafted 480th in this years draft.
Ray, who has showed off his talents in draft combines in major league ballparks across the midwest recalls playing in the Under Armour All-American Game at Wrigley Field in an interview with Dan Kirby of Through the Fence Baseball.
"To even be considered for the Under Armour All-American game is an honor. Add in the fact that I was blessed with the opportunity to represent Chicago, it is something that I will remember for the rest of my life. It was my first time ever playing at Wrigley and, when I stepped foot on the field, I found myself amazed by the tradition of, in my opinion, the most historic ballpark in the big leagues," Ray said.
Ray is a five-tool player that can run, throw, field, hit and hit for power. Whether it be for the Louisville Cardinals or a big league club, whoever Ray decides to play for will quickly be salivating over the young outfielders talent.