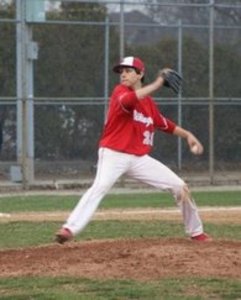 Every year kids lace up their cleats, grab their mitts, and run around the bases of the countless baseball diamonds you can find scattered across the country trying to emulate their favorite big league players.
For most, that dream burns out with the harsh realization that not everyone can play at the highest level, but for Southland Viking pitcher Dan Lietz that dream is rapidly becoming a reality.
In high school Lietz was a standout on the mound, mowing down many with ease in his three year stint on the varsity roster. After graduating from Homewood-Flossmoor High School in 2012 his play earned him an opportunity to pitch for the Heartland Community College Hawks in Normal, IL, where Lietz did not disappoint.
In his freshman season for Heartland the 6' 2" 200 pound lefty compiled a stat sheet that was lights out at seasons end, leading the Hawks to a 50-11 season and a National Junior College Athletics Association Division II World Series birth.
Lietz finished the season with a 1.78 earned run average in 60.2 innings pitched in which his strikeout to walk total was a staggering 56-6. Not too shabby when you throw in his seven complete games in the nine outings he started on the hill.
Everything is happening fast for Dan now, as just a few days after pitching in the NJCAA World Series he found himself throwing on a little bit bigger of a stage, the "friendly confines" of Wrigley Field in Chicago.
Lietz was on the field with different prospects from coast to coast for the upcoming Major League Baseball draft showcasing his talent in front of scouting directors from various major league teams.
Lietz, who is a diehard Cubs fan himself, recalled a moment during the scouting combine where he got to do something that he has wanted to do since he was a young ballplayer dreaming about playing in the show.
"While the pitchers were waiting to throw after the hitters had batting practice I made sure to run out to the outfield wall and touch the Wrigley ivy, all in all it was an experience that I will never forget," Lietz said.
Lietz is currently ranked 254th by Baseball America's draft preview for this years upcoming draft. An opportunity that Lietz said will be an honor.
"Getting drafted this year no matter what selection will be an honor because it has always been my dream to play professional baseball," he said.
"The possibility of that becoming a reality has been an eye-opening experience."