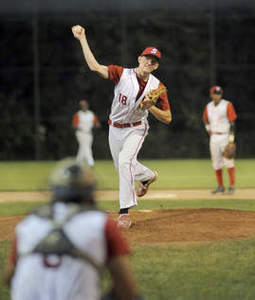 Viking field saw its first game action in three weeks as Southland took on the Chicago Zephyrs under the lights in what was both teams opening game of the 2013 summer season.
After disappointing seasons last summer in which both teams sported losing records the two ball clubs were eager to get on the field after the long wait to start this summer off with a win. Unfortunately for the Zephyrs there are no ties in baseball, as the longest running team in the Midwest Collegiate League took the loss by a score of 8-7, respectively.
Scoring came early for both teams as Viking's starter Robbie Nunn surrendered two runs in the top of the first inning on four Zephyr hits after striking out the first two batters of the game.
In the bottom half of the inning the Vikings fought back to regain the lead by a score of 4-2 after batting around their order with a formula of three timely hits and patience at the plate earning four walks off of Zephyr starting pitcher Cody Love.
Nunn calmed down in the second frame blanking Chicago as Southland continued to pour it on offensively, adding three more runs to their lead on three hits while forcing Zephyr head coach Marco Fajardo to take Love out of the game.
Chicago didn't roll over after the early Viking lead, scoring five runs of their own spanning across the third and fourth innings, knocking Nunn out of the game after just 2.1 innings of work.
Viking veteran pitcher Evan Nietfeldt came in to relieve Nunn, and did his job of halting the Zephyrs offense to keep the one-run lead.
"You just have to come in and throw strikes, if you throw strikes the other team can get themselves out and in a situation like that if you can go in and throw strikes and play your game you will be successful," Nietfeldt said.
A third inning blast over the left centerfield fence off the bat of first baseman Jeff Boehm proved to be the game winning run as Alex Lesiak, Will Poley and Anthony Andres followed winning pitcher Evan Nietfeldt with five scoreless innings out of the bullpen to help earn the opening day victory over the Zephyrs.