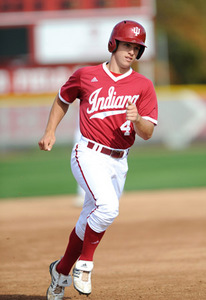 The Southland Vikings Baseball Club is excited to announce the signing of Indiana University Outfielder Chris Sujka for 2013 summer season.
In his first season at Indiana Sujka played in 56 games, making 50 starts in the corner outfield and was a unanimous choice to the Big Ten All-Freshman team. He was named the Big Ten Freshman of the Week on Feb. 27 after a three-game series at Tulane (2/24-26) that saw him hit .500 with a homerun, two doubles, four RBI and slugging percentage of .917 and drove in 10 runs with a pair of four-RBI days within the first five games of his collegiate career where he hit .269 with five homeruns, 35 RBI, eight doubles, five stolen bases and 28 runs scored for the season. He also laid down a team-high 11 sacrifice bunts, ranking fifth in the Big Ten and increased his batting average to .319 during the Big Ten season. Also he drove in two or more runs in 12 different contests, third most on the team. He plated three more at Indiana State (3/7), going 3-for-5 with a homerun and two runs scored and went 3-for-3, two-RBI, two-runs performance on March 23 at Penn State.
During the 2012 summer season Chris was a member of the Yarmouth-Dennis Red Sox of the Cape Cod League and the Battle Creek Bombers of the Northwoods League. Don Popravak President / General Manager of the Southland Vikings stated that the Southland Vikings are excited to have a player of Chris' caliber and talent playing for the club this summer. "Chris brings excellent baseball skills and leadership to the Vikings for the 2013 summer campaign; we are looking forward to him being an impact player for our club."
The 2011 Illinois Male Athlete of the Year, awarded by the Northwest Indiana Times was an All-Illinois and Academic All-Illinois team member. He posted a .389 batting average, school-record 12 homeruns, 41 RBI, nine doubles and three triples while leading Mount Carmel High School to the state finals. Sujka also quarterbacked the football team to an appearance in the state finals, racking up 1,406 rushing yards, 30 touchdowns and 847 passing yards.