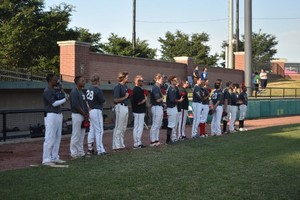 Hammond, Ind. - August 19, 2021 - The Southland Vikings finished fourth in the 2021 MCL season and three of their premiere players were recognized for their great seasons on Thursday.
Patrick Doran (North Carolina Central / Evergreen Park, Ill.) earned the honors at first base and was a huge part of the Vikings offense. Doran led the Vikings in hits (32), home runs (3), RBI's (24) and extra base hits (10). He also posted a .327 batting average, .431 on-base percentage, and added a home run in game two of the MCL semi-finals.
Jake Paymaster (Triton / New Lenox, Ill.) is one of two Southland pitchers to be featured on the All-MCL team. Paymaster earned MCL Pitcher of the Week three times, the most in the league. Threw two complete games, one a shutout, and gave up three earned runs or less in nine starts for the Vikings. He ended the season with a 2.81 ERA, 47 strikeouts, and a 4-1 record.
Nolan Vlcek (Marshalltown CC / Lockport, Ill.) the strikeout machine comes in as the third Viking to be recognized this season. In 35.2 innings, Vlcek recorded 56 strikeouts including 5 appearances of 6 plus strikeouts. He threw three earned runs or less in all eight appearances this year including four appearances of zero earned runs and finished the season with a 2.52 ERA.
2021 MCL All-League Team
P – Michael Laudondo, Crestwood Panthers
P – Jack Guzek, NWI Oilmen (unanimous)
P – Billy Lepretre, Chicago American Giants
P – Nolan Vlcek, Southland Vikings
P – Jake Paymaster, Southland Vikings
OF – Ronald Applewhite, Crestwood Panthers
OF – Tre' Hondras, Chicago American Giants
OF – Jacob Ferry, NWI Oilmen
C – Gannon Andrews, Crestwood Panthers
1B – Patrick Doran, Southland Vikings
2B – Kevin McCormick, NWI Oilmen
SS – Bryce Vincent, Joliet Generals
3B – Casey Kmet, NWI Oilmen
UTL – AJ Wright, NWI Oilmen
MCL Manager of the Year History
2021 – Joe Silva, Joliet Generals
2020 – Isaac Valdez, Crestwood Panthers
2019 – Jake Wegner, Bloomington Bobcats
2018 – Ben Caple, DuPage County Hounds
2017 – Kevin Franchetti, Southland Vikings
2016 – Tom Barry, Joliet Admirals
2015 – Sean Osborne, DuPage County Hounds
MCL MVP History
2021 – Bryce Vincent, Joliet Generals
2020 – Ray Hilbrich, Crestwood Panthers
2019 – Nick Santoro, DuPage County Hounds
2018 – Nate Montgomery, NWI Oilmen
2017 – Jack Butler, Bloomington Bobcats
2016 – Tyler Sroczynski, NWI Oilmen
2015 – Tyler Sroczynski, NWI Oilmen
2014 – Bobby Sheppard & Jeff Boehm, Southland Vikings
MCL Pitcher of the Year History
2021 – Jack Guzek, NWI Oilmen
2020 – Jordan Smevoll, DuPage County Hounds
2019 – Justin Rios, Southland Vikings
2018 – Quinn Gudaitis, Bloomington Bobcats
2017 – Kevin Glynn, Southland Vikings
2016 – Mitch Weis, Bloomington Bobcats
2015 – Tom Concklin, DuPage County Hounds