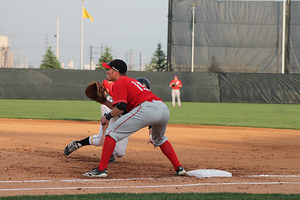 The Southland Vikings, who entered Monday 0-2 against the Northwest Indiana Oilmen this season after defeating them last season in the Midwest Collegiate League championship, had a rescheduled game against the Oilmen on Monday night.

The Vikings fell by a score of 3-2, dropping the 0-3 against the rival Oilmen this season.

Kevin Hallberg, starting pitcher for the Vikings from Grand Valley State, was unable to get any run support. Hallberg went 5 1/3 innings, allowing three runs, two earned runs, three hits and five walks and three strikeouts as he left with the Oilmen leading 3-0.

"He pitched very well after having not pitched in 10 days," Vikings manager Chris Cunningham said. "I felt he hit his spots very well."

The Vikings had bases loaded in the third inning but were unable to score a run. The Vikings left nine runners on base in the game. The Vikings had runners on the corners in the sixth, but were unable to capitalize.

The Oilmen started the scoring with two runs in the fourth inning as a single, walk and an error led to two runs. The Oilmen scored again with an RBI double by third basemen Nate Schneider in the sixth.

The Oilmen held the 3-0 lead into the seventh inning as the Vikings were able to start a rally in the seventh as Kendall King hit a double down the line against Anthony Gomez. Then, the Oilmen made a pitching change as Garrett Sherrell came into the game.

Bobby Sheppard hit a sacrifice fly to put the Vikings on the scoreboard and make the score 3-1. Jeff Boehm hit a RBI double to cut the lead to one. The Vikings cut it to 3-2 but were unable to tie it in the seventh inning.

The Vikings were unable to start another rally in the eighth inning as the Vikings went down one-two-three with all groundouts. Connor Ryan was able to keep it a one run game as he pitched a scoreless bottom of the eighth inning.

"I went out there knowing it was only a one-run game," Ryan said. "I did what I was supposed to do to keep us in the game."

Matt Pobereyko came in the game for the Oilmen got a one-two-three ninth inning and got his eighth save of the season as the Oilmen hung on for a 3-2 victory.

"We had a long layoff after two straight rainouts and were not able to get timely hits," Cunningham said. "We can't go out there and make excuses."

The Vikings fall to 8-6 on the season will travel to Michigan City to take on the Lakers on Tuesday evening.