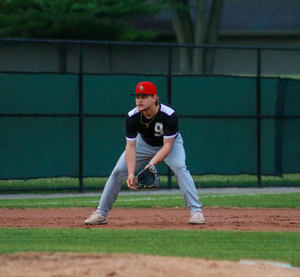 Hammond, Ind. – July 28, 2022 – It's not the way Southland wanted to get in, but what's important is that they got in.
As Thursday was a bittersweet night for the Southland Vikings (24-16-2). On one hand, the Vikings fell 8-3 to the first-place Lake County Corn Dogs (30-10). On the other hand, Crestwood's loss at home secured another Viking postseason appearance.
"That's not how you want to get into the playoffs," Vikings manager Scott Nowakowski said. "You want to handle your own business, but [at some points] you want help from other teams [and we did] so, we'll take that."
Before the playoffs begin, the Viking coaching staff wants to clean up the defense. The Vikings made two errors in the game Thursday, with several other plays that could have been made that weren't.
"We will be alright [on defense]," Nowakowski said. "Once we don't have to play people out of position. That's probably been a big cause of our defensive issues. [We have] pitchers playing the outfield, outfielders playing the infield, vice versa, once our starting nine are back and playing where they're supposed to be playing [I think] we'll be fine."
On the offensive side tonight, the Vikings were able to scratch a few runs off the league's best pitching staff. Chris McDevitt led the charge with a pair of RBIs in the contest, an RBI groundout in the third, and a bases-loaded walk that scored a run in the sixth.
"I just showed up wanting to play," McDevitt said. "We played ten guys and Coach Scott [Nowakowski] kept telling us to never give up and it's as simple as that."
The Vikings will try to take this never give up attitude into the postseason. The aforementioned attitude has players like McDevitt optimistic about the squad's chances to win the league title.
"We're like the underdogs in this league," McDevitt said. "We play only 10 or nine guys every game and still win. So, we're just a team full of athletes and we might not make every play but we will give it our all."
Before the postseason begins, the Vikings will compete in one last week of the regular season beginning on Monday, August 1, in a home matchup with the Crestwood Panthers. First pitch is at 5 p.m. and fans will be able to follow along on Facebook Live or the Vikings Radio Network.
| | | | | | | | | | | | | | |
| --- | --- | --- | --- | --- | --- | --- | --- | --- | --- | --- | --- | --- | --- |
| 7/28/22 | 1 | 2 | 3 | 4 | 5 | 6 | 7 | 8 | 9 | R | H | E | L |
| Corn Dogs | 1 | 0 | 0 | 3 | 2 | 1 | 0 | 0 | 1 | 8 | 12 | 1 | 13 |
| Vikings | 0 | 0 | 2 | 0 | 0 | 1 | 0 | 0 | 0 | 3 | 9 | 2 | 13 |
Photo Credit: Isaiah Santiago