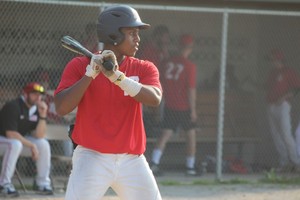 Hammond, Ind. - August 4, 2021 - The Southland Vikings (19-19) sit in fourth place and need two wins to clinch a playoff berth. They faced off against the MCL Minutemen (8-27) for the second straight game and did what they did on Monday, win. It was the Minutemen at first but the Vikings used a big second inning and key bullpen pitching to secure a 5-4 win in seven innings.
The Minutemen scored two runs in the first inning without recording a hit, 2-0.
The Vikings scored all their runs in a big second inning. Alex Gasbarro (Purdue Northwest / New Lenox, Ill.) reached on base via error and Jason Krol (Lewis / Chicago, Ill.) lined a single to right field. Caleb Evans (Jackson State / Hawthorn Woods, Ill.) drew a walk and loaded the bases with two outs. In a 11 pitch at-bat Luke Sefcik (Central Michigan / Palos Heights, Ill.) lined a bases clearing three RBI double down the left field line, giving Southland their first lead, 3-2. Patrick Doran (North Carolina Central / Evergreen Park, Ill.) followed with an RBI single to left field, 4-2. Joe Rycerz (St. Xavier / Schererville, Ind.) continued the two-out offense with an RBI double in left-center extending the lead 5-2.
"I was soaked from yesterday's game, I stayed in the at-bat and I've been seeing the ball well," Sefcik said. "After the last game I had, you feel good at the plate, just trying to stay alive and make contact. We're getting hot at the right time, we've been marinating so feels good to be in this type of groove with the playoffs next week,"
The Minutemen scored one run in the third and fourth innings, keeping it at a 5-4 game.
Tommy Engraffia (St. Xavier / Evergreen Park, Ill.) came in for relief in the fifth inning and was the unsung hero. Battling through runners on the bases, Engraffia threw three scoreless innings and shut the Minutemen down, helping the Vikings secure a 5-4 win.
"Hallberg threw batting practice for us and now we're 8-0 when that happens, keep the streak going," Engraffia said. "When McDevitt made the error in the seventh, it pumped me up more on the mound to get the final out."
The Vikings next game is Thursday, August 5 against the Chicago American Giant. First pitch is at 5:05 p.m. and the game will take place at Dowling Park located in Hammond, Ind. The game will be broadcasted on the Southland Vikings Facebook Page via Facebook Live. Jack Theil will have the call.